Harriet Martineau
Aston Street, Birmingham B4 7UP
View in a map
SOLD OUT
View in a map
About Halls
Harriet Martineau not only overlooks the
Aston University
Chancellor's lake but it's also just a few minutes from the centre of the city, making it a great choice for
Birmingham City University
students too.
All rooms here have private bathrooms. Choose an en-suite room and you'll share your kitchen (perfect for cooking and eating together). Opt for a one bedroom flat and your kitchen will be private too.
Named after the novelist and journalist, Harriet Martineau is home to 420 students. Challenge your friends to a game of ping pong or pool in the common room, or simply relax on the comfy couches. You'll also find a study room here.
At Harriet Martineau, you're not just minutes from your lectures and the library. You'll find a Tesco Express and Sports Centre on campus and Birmingham's world-class shopping, culture and nightlife is just a short walk away.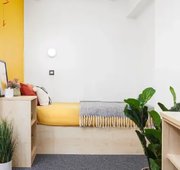 Accessible Ensuite Premium (range 1)
3/4 bed 7 flatmates Desk chair Chest of drawers Curtains Desk Full-length mirror Under bed storage Wardrobe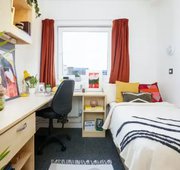 Ensuite Premium (range 1)
3/4 bed 7 flatmates Desk chair Chest of drawers Curtains Desk Full-length mirror Under bed storage Wardrobe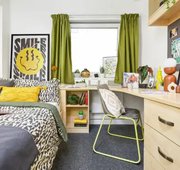 Ensuite Premium (range 2)
3/4 bed 5 flatmates Desk chair Chest of drawers Curtains Desk Full-length mirror Under bed storage Wardrobe