Here are 5 Attractions Students Will Enjoy in Bradford
7th Jan, 2023
Bradford has plenty to offer to its students, ensuring they do not have a day of boredom. Due to its youth population, the city is always buzzing with activities.
Being a university city,
many student accommodation in Bradford
have popped up throughout the city. If you're on the lookout for quality accommodation that is affordable, check out Best Student Halls.
Here are a few things for students to explore during their time in Bradford:
1. Nature in Bradford:
If there's one thing that Bradford has in plenty, it is nature. Bradford City Park is a great place to hang out with your friends or simply by yourself. Being located in the heart of the city, it is easily accessible from any part. Sometimes, you'll find the park buzzing with activity. With a large event space, exhibitions, market halls and other events are frequently held here. The park is also home to the Mirror pool, which boasts of being the highest fountain in the country. If you stick around after sunset, you can even watch the breathtaking light shows here. If you want to have some fun, you can take a few friends and head to the play fountains! Summer would be an ideal season to do so, as it will help you cool down. Lister Park is another great one that is covered in greenery. It makes a lovely picnic spot to enjoy on sunny days.
2. Museums and Art Galleries:
If you consider yourself to be a bit of a history buff, Bradford will serve you right. The city is home to more than 99 museums and art galleries! You can keep busy by exploring a new one every day. The museums will help you dive into local and global history by taking you on an exciting tour of the past. The National Science and Media Museum will give you an insight into pop culture. Here, you will find everything that you need to know about animation, photography, television, radio, video games and more! With both permanent and temporary collections on display, you can explore 8 floors of galleries! You can also visit Salt's Mill, which packs a punch for its audience, offering a bunch of unique experiences. Previously a textile mill built during the Victorian era, it has now been converted into an art gallery and shopping centre with eateries. The Bradford Industrial Museum and the Bolling Hall are also pretty interesting places that deserve a visit in Bradford.
3. Architecture in Bradford:
If you find yourself fancying architecture, you will appreciate Bradford. The city is known for its diverse architectural styles, many of which date back several centuries. Architecture in Bradford is so unique that it has even earned itself a name known as 'Bradford Baroque'! Examples of this style of architecture include the Cartwright Hall! You'll be surprised to learn that many famous structures have been converted into museums and exhibit centres, allowing you to explore these in a new light. The Bolling Hall located in Bradford is a great example of medieval architecture that has been made into a museum.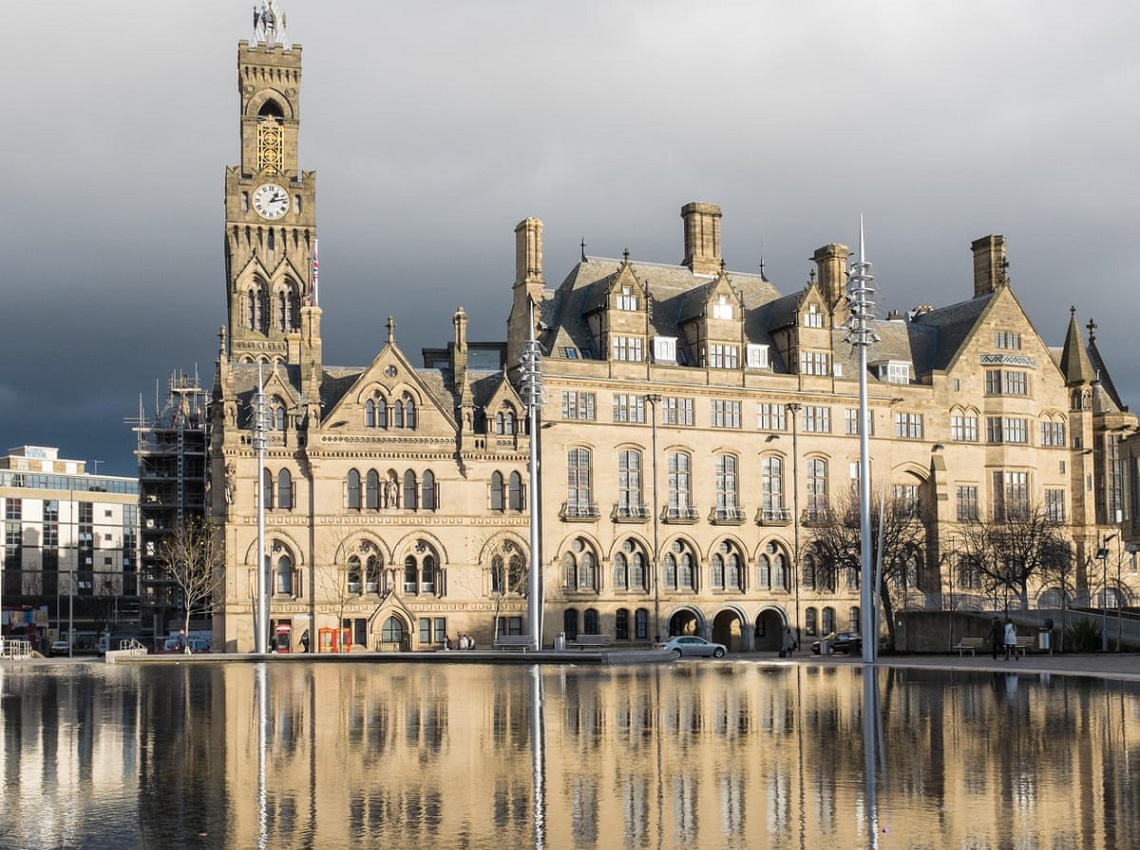 4. Eat in Bradford:

If you're a foodie, you would probably know that Bradford has been named the curry capital of Britain for 5 years straight! Bradford will be your food haven, with tons of restaurants and cafes to explore. Some of the nicest ones are tucked away in tiny nooks and corners. So, walking around the city would give you a better chance to observe the details, without missing out on anything. You will find plenty of eating options scattered everywhere you go. If you're low on budget, you will also find many cheap eats there.

5. Entertainment in Bradford:

If you're a lover of cinema, you'll be glad to learn that Bradford is the world's first UNESCO city of the film! Naturally, the theatre scene in Bradford is pretty vibrant. You will have a good time visiting the Alhambra Theatre and enjoying a show from their wonderful lineup. You will come across artists who come here from all over the world, giving you plenty of opportunities to learn and grow. If you're an avid reader, don't miss a chance to check out the Manningham Library. They offer a unique selection of books and media, which you will find yourself getting lost in. It also has a delightful garden, which is perfect to unwind and soak in some sun.

If you happen to find your student room in Bradford around your university, it'll place you amidst the student hangout spots. So, you don't have to travel a lot within the city, only to have a good time with your friends.

We hope this article helped you find your direction in the city of Bradford, without putting in too much effort!