Vega
6 Miles Street, London SW8 1RZ
View in a map
SOLD OUT
View in a map
About Halls
Enjoying your time as a student won't just be a pipe dream at Vega Residence student accommodation, as it provides independent studios and shared apartments at affordable prices. The bedrooms at Vega Residence London are outfitted with a comfy bed, a study area with a desk and a chair, and a lot of storage space for all of your belongings.

Vega Residence student accommodation is conveniently located close to a number of prestigious universities. It is 12 minutes away from the University of West Scotland and 16 minutes away (by Tube) from King's College (Guy's Campus) and the London Film School.

The 37-storey Vega Residence accommodation has a variety of rooms to suit your needs. It has a rooftop terrace with breathtaking views of the Thames. You also get great amenities like a private dining room where you can prepare food with your friends, a gym where you can work out, a movie theatre where you can watch films, and a games area that allows you to unwind from your studies. You can develop your friendships with your friends through monthly events at Vega Residence London.

All of the rooms at Vega Residence accommodation are equipped to the highest standard. There is a delightful common area at Vega Residence London, where you can meet other residents. If you need to work on a group task or prepare for a test, use the on-site study space. Together with your flatmates, watch movies in the roomy cinema room with its large screen. After finishing your studies, go play some games in the playroom to relax.

Due to the Vega Residence student accommodation's central location in London, a variety of restaurants, cafes, pubs, clubhouses, and fast food joints are accessible on foot. For those who want to grab a few drinks, the Riverside Pub and Mother Kelly's Bar are nearby. Delicious food is served at both Brunswick House Restaurant and Darby's Restaurant. Tonkotsu Battersea is the place to go if you're craving ramen. Even a market can be found close by, so you won't ever have to be concerned about running out of daily necessities.

Vega Residence student accommodation is situated on Miles St and is close to a lot of attractions. You can visit wonderful locations nearby like Victoria Street, Buckingham Palace, the London Eye, and more when you have free time.

Vega Residence accommodation is a 6-minute walk from the Riverlight Quay (Stop E) bus stop and the Vauxhall train station, where you can board a bus or board a train. You can always reserve a taxi from nearby taxi services if you don't feel like running to catch a bus or train. For an amazing student experience in London, make a reservation at Vega Residence student accommodation!
Property Amenities
Wifi
Bike Storage
CCTV
Onsite Security
Common Room
Laundry
En-suite
Gym
Cinema
All Bills Included
Content Insurance
Social Calendar
Garden rooftop terrace
Private study room
Games room
Social Events
Kitchen and private dining room
Premium contents insurance
No Contracts Available At Present.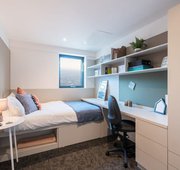 No Contracts Available At Present.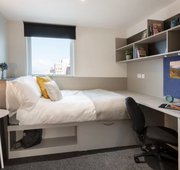 No Contracts Available At Present.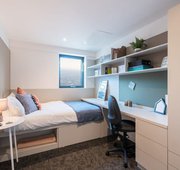 No Contracts Available At Present.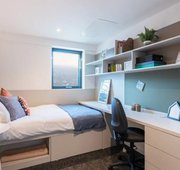 Deluxe Plus Ensuite
Room size: 20-22m2 (approximate)
No Contracts Available At Present.