Grand Felda House
Empire Way, Wembley, London HA9 0EF
View in a map
SOLD OUT
View in a map
About Halls
Grand Felda House sits in an excellent location, only a five-minute walk from the Wembley Underground Station and the Wembley Stadium. This means that you have easy access to not only the public transport of London, allowing you to get to Central London in a matter of minutes, but you can also walk from your student accommodation to the shops, restaurants, pubs, clubs and stores that line the stadium area.

Living at Grand Felda House student accommodation, you will be able to enjoy an active social life. Additionally, the proximity of all the restaurants and cafes also means that you will have easy access to part-time work to help make your student life better! Additionally, the many universities and colleges, including UCFB, Westminster University, City University and Middlesex University are all situated at a comfortable distance so that you can get to your university and back without having to spend too long on the commute.

Grand Felda House accommodation is made up of 'threedios' and 'twodios' or simply put, studios where you can accommodate three or two people, respectively. These offer great solutions for students to share the accommodation with their friends. Apart from these, you can also find 5-bed en-suites or cluster en-suites where you can enjoy your privacy and yet share your living space. If you want to live by yourself, you can choose a single access room or one of the many studios, the options are plenty.

The different facilities offered by Grand Felda House include high-speed WiFi and broadband connection so that you can stay connected, no matter where you are, throughout the property. Secure door entrance, CCTV cameras and onsite security are all available to ensure student safety and security. The place also has an on-site laundry so that you can do your washing at your own convenience.
Offers
COVID-19 Cancellation & Refund Policy
Secure your room for next year for just £1 holding deposit*
Property Amenities
Wifi
Broadband
CCTV
Onsite Security
Common Room
Secure Door Entry
Laundry
En-suite
Pool Table
Kitchen
Freezer
On Site Maintenance
Heating
All Bills Included
Bus Links
Train Links
Airport Links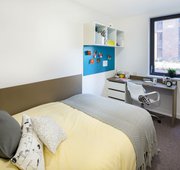 3 Bed Apartment
Great to share with friends. Located between 1st and 8th floor. Access to the floor communal space. Room Size can vary from 8.71m2 -10.1m2. What's in the room? 3/4 size double bed with under bed storage Drawers Magnetic board Mirror Plenty of storage Shared kitchen with induction hob, combi oven, and fridge freezer Shared shower room Study space with desk chair Wardrobe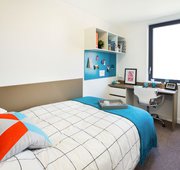 2 Bed Apartment
Great to share with friends, a twodio is made up of two bedrooms, a shower room, and a shared kitchen with dining space Located between the first and eighth floor Room sizes can vary from 8.70m2 to 8.79m2 What's in the room? 3/4 size double bed with under bed storage Drawers Magnetic board Mirror Plenty of storage Shared kitchen with induction hob, combi oven, and fridge freezer Shared shower room Study space with desk chair Wardrobe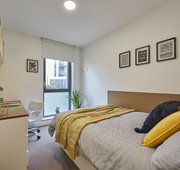 5 Bed En-suite Upper Floors
13.16m2 Great to share with four other flat mates / friends, there is a communal kitchen with a dining and lounge area. Located between the ninth and fifteenth floor. What's in the room? 3/4 size double bed with under bed storage Drawers Magnetic board Mirror Plenty of storage Private en-suite shower room Shared communal kitchen with ceramic hob, combi oven, and fridge freezer Shelves Study space with desk and chair Wardrobe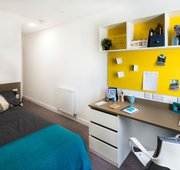 5 Bed Ensuite Bronze
Great to share with four other flat mates / friends, there is a communal kitchen with a dining and lounge area. 13.16m2 What's in the room? 3/4 size double bed with under bed storage Drawers Magnetic board Mirror Plenty of storage Private en-suite shower room Shared communal kitchen with ceramic hob, combi oven, and fridge freezer Shelves Study space with desk and chair Wardrobe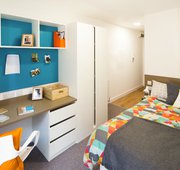 Studio
Located between 1st and 8th Floor. 14.78m2 What's in the room? 3/4 size double bed with under bed storage Dining space with table and chairs Drawers Magnetic board Mirror Plenty of storage Private en-suite shower room Private kitchen with induction hob, combi oven, and fridge freezer Shelves Study space with desk and chair Wardrobe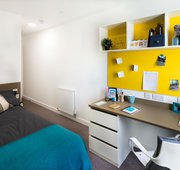 4 Bed Cluster Ensuite
Great to share with three other flat mates / friends, there is a communal kitchen with a dining and lounge area. 13.16m2 What's in the room? 3/4 size double bed with under bed storage Drawers Magnetic board Mirror Plenty of storage Private en-suite shower room Shared communal kitchen with ceramic hob, combi oven, and fridge freezer Shelves Study space with desk and chair Wardrobe
Single Accessible
19m2 What's in the room? Single bed with under bed storage Dining space with table and chairs Drawers Magnetic board Mirror Plenty of storage Private en-suite wet room Private en-suite with induction hob, combi oven, and fridge freezer Shelves Study space with desk and chair Wardrobe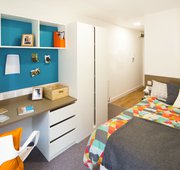 Upper Floor Studio
Located between the ninth and eighteenth floor. 15m2 What's in the room? 3/4 size double bed with under bed storage Dining space with table and chairs Drawers Magnetic board Mirror Plenty of storage Private en-suite shower room Private en-suite with induction hob, combi oven, and fridge freezer Shelves Study space with desk and chair Wardrobe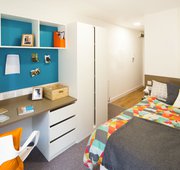 Platinum Studio
Room size can vary from 18.35m2 to 26.73m2. The biggest studio at Grand Felda House Standard double storage bed Private bathroom and kitchen Ideal choice for students who require plenty of space and privacy