Belaton House
Belaton House, 130 Holdenhurst Road, Bournemouth BH8 8AW
View in a map
SOLD OUT
View in a map
About Halls
A fun, interesting, and peaceful stay is guaranteed at Belaton House, a stunning and modern student residence. You'll be set up for comfort and convenience from day one, from the lovely rooms that were specially designed for you to the fully functional kitchens. You're also well-positioned to begin experiencing all that this wonderful city has to offer, being in the heart of Belaton House Bournemouth.

The ideal location for living and studying is the student housing at Belaton House. Take in the tranquil setting, mingle in the bustling study space, meet new people, and find connections. You will have access to several of the best amenities available on the site as a tenant of the Belaton House student accommodation.

All the amenities required to live comfortably are included in the high-quality rooms designed thoughtfully for students. Belaton House student accommodation is regarded as one of the greatest student residences in Bournemouth due to its amazing social spaces, high-speed Wi-Fi throughout the entire building, round-the-clock security, and utilities included in the rent. You can find a variety of common areas at the Belaton House student accommodation with cosy couches to talk to friends, watch a movie or show in the cinema room offered to you or whenever you feel like you need a break, you can also use the on-site gym to relieve stress.

The city centre is very close to Belaton House, and just over the street are huge restaurants and cafes where you can grab a bite whenever you feel like it. You could also explore places by utilising the nearby bus stops and hop on to a train to start your adventurous journey or hang out and make plans with your pals. The Belaton House student accommodation is a distinctive lodging option that provides an exceptional student experience in an ideal setting adjacent to the city centre and college vicinity. You don't want to lose out on making your university years at Belaton House unforgettable because everything has been thoughtfully created with students in mind.
Property Amenities
Wifi
Bike Storage
CCTV
Common Room
Laundry
En-suite
Gym
On Site Maintenance
All Bills Included
Parcel receipt
Social Events
24 hour support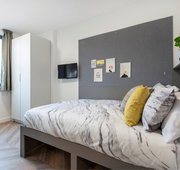 Standard - 2 Bed Flat
Got a friend you would like to live with or want to keep numbers low, the Standard 2 Bed Flat is a great option to share a living space with only one person. You get your own room and share the kitchen area and bathroom, so whether it's studying until 2:00 in the morning or time to chill out, our 2 bedroom flat will be a great choice for you. Standard 2 beds are located on the Ground floor and are very limited. Rooms are around 10m2.
Prices are shown per person per week.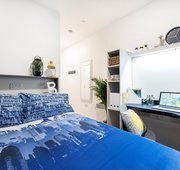 Standard En Suite
Rooms range from 12.2m2 - 12.8m2.
Share a homely kitchen-diner in a 5-8 bed flat whilst enjoying the privacy of your own modern room with a swanky bathroom to match! Sizes of this room type will vary. Your room will have plenty of storage space and a small double bed. These are great value apartments located on the ground floor and have limited availability.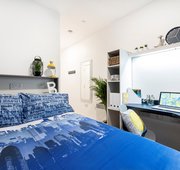 Classic - 2 Bed Flat
Just fancy living with one other person? A room in a Classic 2 bed flat apartment could be the perfect solution - sociable but quiet, and ideal if you want to live with your BFF (or make a new one). You'll share a modern en-suite bathroom and your very own kitchen-dining area too! These rooms are located higher in the building for better views!
Prices are shown per person per week.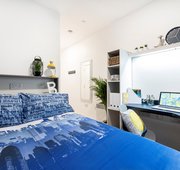 Classic En Suite
Rooms range from 12.2m2 - 13.4m2.
Live with friends, or make new ones in a Classic En-suite 5-8 bed flat with a modern shared kitchen. You will have all the great features of the Standard En-suite, but these rooms are available on a range of floors.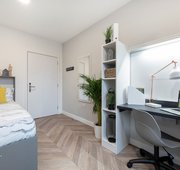 Premium En Suite
Rooms range from 15.8m2- 18.7m2.
Enjoy more space in your contemporary premium en-suite room. You have all the features of a classic en-suite, but the extra floor space will have your friends looking on with envy! These rooms are very limited and won't hang around for long.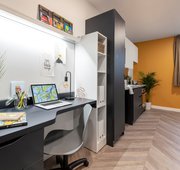 Standard Studio
Rooms range from 17.8m2 - 22.2m2.
Like to keep your place just the way you like it? Why not live in a great value studio of your very own? Standard Studio's come equipped with your own kitchenette, double bed and swanky en-suite bathroom. These studios are located on the ground floor and are very limited.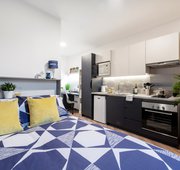 Classic Studio
Rooms range from 17.8m2 - 22.2m2.
These great value studios have everything you need if you'd rather not share a kitchen. Perfectly proportioned with clever storage and cooking facilities, you'll feel right at home in your own space. And just like our en-suite rooms, you'll have a stylish bathroom all to yourself! Located between floors 1-7 a Classic Studio is a great choice.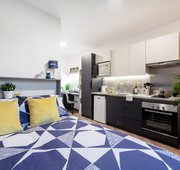 Premium Studio
Premium studios are from 22 square metres. Imagining student life in one of our most spacious and comfortable studios? You still get the great storage, kitchenette, swanky bathroom and double bed, just with even more space!