Truro Sheffield
135 Matilda Street, Sheffield S1 4QG
View in a map
View in a map
About Halls
Welcome to Truro Sheffield Student Accommodation, a buzzing and exciting student home conveniently located close to the Universities of Sheffield and Sheffield Hallam. Prepare to start an incredible journey as a student in the centre of this busy metropolis.
Imagine leaving your comfortable home to discover an array of accessible stores, pubs, and restaurants all around you. The city's centre beckons, presenting countless opportunities for adventure and discovery. In addition, the railway station is only a leisurely stroll away, giving you the freedom to venture forth and discover the wonders beyond when your wanderlust strikes.
We at Truro Sheffield Accommodation are aware of how important it is for you to select the ideal residence for your university career. Because of this, we provide a range of solutions that are suited to your needs. We have everything you require, whether you're searching for affordable rooms, contemporary en suites, self-contained studios or the seclusion of a one-bedroom flat.
But Truro Sheffield isn't just about providing a roof over your head; it's about fostering a vibrant and supportive community. Our communal spaces, both indoor and outdoor, serve as lively hubs where you can forge lifelong friendships, make memories, and immerse yourself in the student spirit. Share stories, laughter, and good times as you create connections that will last a lifetime.
The nicest aspect is that we think life should be made simpler. That's why we take care of those annoying bills so you can concentrate on what is really important. You may say goodbye to the burden of managing several bills if your rent is all-inclusive and includes everything from utilities to content insurance and Wi-Fi. We've got you covered so you can succeed and enjoy your time at campus.
Imagine yourself having access to information and opportunity as you leisurely stroll for just eight minutes to
Sheffield Hallam University
. It takes about 7 minutes to get to the railway station, which is ready to take you on thrilling excursions. You can reach the
University of Sheffield
after a relaxing 20 minutes of walking, and the bustling city centre can be reached in about 10 minutes. With The Leadmill only a two-minute walk away and the O2 Academy just ten minutes away, you can let your inner music lover go.
Are you ready to embark on an extraordinary student journey? Join us at Truro
Sheffield Student Accommodation
and unlock a world of possibilities. Welcome too your new home away from home where comfort, convenience, and community converge to create an experience you'll treasure for a lifetime.
Offers
International Guarantors Accepted
Limited Time Offer: Book And Get £150 Off Your Rent.*
Property Amenities
Wifi
Bike Storage
Broadband
CCTV
Onsite Security
Common Room
All Bills Included
Content Insurance
Private study room
On-site Team
Social Events
Study Zone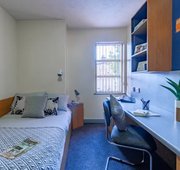 Premium En Suite ( Truro Court)
All our en suites boast a small double bed, study area, washbasin, and wardrobe, as well as an en suite shower room. Feel at home with the stylish communal kitchen, dining, and living area with your flatmates. Located in Truro Court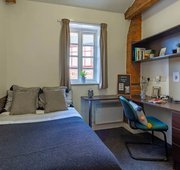 Premium Non En Suite ( Truro Works)
In our non-en suite rooms, you will have a comfy small double bed, study area, washbasin, and wardrobe. Enjoy modern shared bathroom facilities with your flatmates, as well as a communal kitchen, dining, and living area. Located in Truro Works.