Charlotte Court
Charlotte Road, Sheffield S2 4EQ
View in a map
View in a map
About Halls
Welcome to Charlotte Court Student Accommodation, a frivolous and cosy place located right next to the city centre. Charlotte Court student accommodation was made with students in mind. Located on a peaceful street that has everything a student requires with all the shops, bars and restaurants. Charlotte Court Accommodation is located in the educational hub where all the top renowned universities are located within the vicinity with
University of Sheffield
,
Sheffield Hallam University
(City Campus) and Sheffield Hallam University (Collegiate Campus) so going to the college won't be an hassle for students, and they can sleep in as being late won't be an option.
Students who want a cosy living place that is a mix between private living and communal living should choose Charlotte Court Accommodation. In order to accommodate student preferences, we provide a variety of accommodation options within shared flats. Students will enjoy a comfortable space to call their own, complete with your very own bathroom, in your own en-suite bedroom. This makes sure you have the privacy you require for studying, unwinding, or just spending some time by yourself.
However, we also think that university life should be about forming relationships and lifelong friendships. We offer communal kitchen and dining spaces so that you may prepare meals and enjoy meals with your flatmates. It's a fantastic way to make new friends, exchange stories, and foster a feeling of community.
Bill management can be challenging, but not at Charlotte Court accommodation Sheffield. You won't have to worry about splitting expenses or keeping track of several payments because your rent covers all utility costs. Everything is handled for you.
Stay in touch with our free Wi-Fi and internet, which are accessible throughout our hotel. You'll have a dependable internet connection, whether you're working on projects, watching your favourite shows online, or staying in touch with family.
Our common area is a flexible setting where you can relax, mingle, or study with friends. It serves as a centre for friendship and relaxation. For individuals who choose environmentally friendly modes of transportation, we also have bike storage areas and on-site laundry facilities.
Enter our lushly landscaped courtyard to find a pleasant place where you may unwind, read, or have a conversation with friends.
Charlotte Court
student accommodation Sheffield
provides a well-rounded student living experience by fusing the convenience of private space with chances to forge deep bonds and a strong feeling of community. So come join us here at your new home away from home.
Property Amenities
Wifi
Bike Storage
CCTV
Common Room
Laundry
Outdoor area
All Bills Included
Content Insurance
Outdoor Courtyard
Games room
On-site Team
Dining table
24 hour support
Communal Kitchen
Study Zone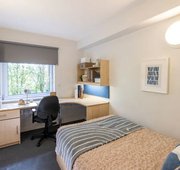 Classic En-suite (6 Bed)
Private en-suite with shower, 3/4 Bed, Wardrobe. Study desk with chair, shelving and drawers, Notice board, Shared kitchen with dining and lounge areas, Breakfast bar and stools, Fridge/freezer, Cooker, Microwave, Vacuum cleaner, Iron and ironing board, Kettle, TV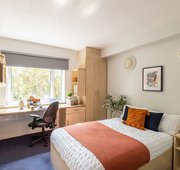 Premium En-suite (6 Bed)
Private en-suite wet room with shower, 3/4 Bed, Wardrobe, Study desk with chair, shelving and drawers, Notice board, Shared kitchen with dining and lounge areas, Breakfast bar and stools, Fridge/freezer, Cooker, Microwave, Vacuum cleaner, Iron and ironing board, Kettle, TV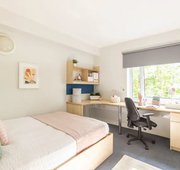 Deluxe En-suite (6 Bed)
Private en-suite with shower, Double Bed, Wardrobe, Study desk with chair, shelving and drawers, Notice board, Shared kitchen with dining and lounge areas, Breakfast bar and stools, Fridge/freezer, Cooker, Microwave, Vacuum cleaner, Iron and ironing board, Kettle, TV