iQ Alice House
Alice House, 25 St Clement's Street, Oxford OX4 1GG
View in a map
View in a map
About Halls
Alice House student accommodation offers an excellent location and great amenities. This modern and stylish accommodation has been carefully designed keeping all the student needs in mind. The thoughtful design becomes apparent once you move into the place as it takes care of all your everyday needs, even the ones that you had not thought about before. Alice House is situated at a comfortable walking distance from some of the major universities of Oxford, including the University of Oxford and Oxford Brookes University. The city centre is also located around 15 minutes away if you decide to walk.

The close proximity of Alice House accommodation to the town centre has manifold benefits. Not only does it make everyday life easier by offering easy access to utilities and services but it also benefits social life. You do not have to wait for weekends or days off to enjoy a quick meal or a coffee with your friends. It also means that you have greater opportunities of finding part-time work near your accommodation, making it easy for you to manage your schedule.

Alice House offers studios of varying sizes and capacities. You can choose the one that works best for you, depending on your particular requirements and budget. The studios feature en-suite bathrooms, well-fitted kitchenettes, large beds, wide windows that offer views of the woods, a dedicated study area with comfortable chairs, study tables and more! Additionally, you will also find features like uninterrupted WiFi, on-site maintenance, in-house laundry, large common rooms and on-site maintenance. The secure doors are one of the many security features of the building that have been installed not only for physical safety but also for psychological security.

The accommodation also has dedicated bike storage where you can store your rental or personal bikes. Since bikes are one of the preferred mediums of transport for students in Oxford, this facility becomes extremely handy.
Offers
Minimum Of 34 Week Tenancy Contracts. *T&Cs Apply.
£250 Cashback Available. Use Code- ALIC250-011121
Property Amenities
Wifi
Bike Storage
Common Room
Secure Door Entry
Laundry
On Site Maintenance
All Bills Included
Social Calendar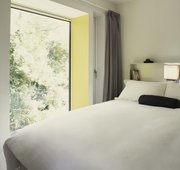 Gold Studio Plus
With all the privacy, functionality and features of our Silver Studios but with even more space, these massive 23 sq m self-contained rooms give you plenty of room to relax and entertain.
With big windows giving beautiful views over the adjacent woods and river, private kitchenette and bathroom and full-size double bed, these rooms give a taste of luxury. They also come with study area and stylish chair, breakfast bar with stools, hardwood floors and lots of storage.