The View
The View, Gallowgate, Newcastle NE4 5SA
View in a map
SOLD OUT
View in a map
About Halls
The View student accommodation

is situated in Gallowgate in Newcastle. This means that you will be situated in a safe and healthy atmosphere in the heart of the bustling city. The View student halls are made up of a mix of contemporary studio apartments and shared flats. You can choose the one that works for you and falls under your budget. For the people who enjoy being in the company of other students, shared flats are a great option and for the people who would rather live on their own and enjoy their privacy, studio apartments are the right choice. No matter which option you go for, you are guaranteed high-end furnishings and thoughtful design that has been created keeping the student lifestyle in mind.
The View student accommodation offers a wide variety of facilities which include uninterrupted high-speed internet through its Wi-Fi and broadband connections. This means that no matter where at the property you are, you can always stay connected with your friends and attend classes or listen to lectures without having to waste time. The designated bike storage has been added at the property where the students can keep their rental or personal bikes when they are not in use. Since biking is a popular way of getting from one point to the other in the city of Newcastle this is an especially useful feature. CCTV cameras have been installed throughout the building to ensure the physical safety and psychological security of the students. The property also has an in-house laundry where the students can do their washing without having to step out with a load of dirty clothes.
The common rooms at The View accommodation are especially cosy and an excellent place to hang out with your friends after a tiring day of work and studies. A library come study area has been provided at the accommodation so that the students can carry on with their studies without getting distracted. The strategic location of the accommodation puts it in the heart of the city connecting it to the rest of Newcastle with the help of plenty of bus and train links. Since the place is centrally heated the students do not have to worry about too cold English winters and they can sit inside in comfort and enjoy the changing weather from the comfort of their homes.
Property Amenities
Wifi
Bike Storage
Broadband
CCTV
Common Room
Laundry
En-suite
Pool Table
Heating
Library/Study Area
All Bills Included
Bus Links
Train Links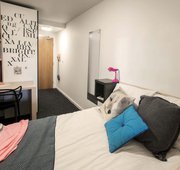 Standard Ensuite
En-suite rooms offers plenty of space to live and study whilst sharing a living area and kitchen. Big Beds En-suite shower rooms Study desk and chair Central Location Safe and Secure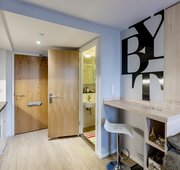 Silver Studio Apartment
The self-contained studio has everything you need. Enjoy a modern kitchen, stylish bath or shower room and high quality furnishings that offer comfort and space. 20.16m sq En-suite Wireless internet Armchair Smart TV Fitted kitchen (with appliances)