The Print House
Woodgate, Loughborough LE11 2QD
View in a map
SOLD OUT
View in a map
About Halls
The Print House student accommodation is located in the heart of the city. It is barely a 15-minute walk to
Loughborough University
. This is one of the biggest reasons that this is a popular option among students.
The Print House accommodation is fairly priced and would not certainly hurt your pockets. They have two room types for students to choose from. One is the classic ensuite and the other is a studio room. They have contracts available for the entire term and in some instances, they also offer flexible contracts.
The rooms at The Print House student accommodation are spacious and have a modern touch to them. Every room is fully furnished and built considering the day-to-day lives of students.
This property has a number of facilities for students. They have an on-site bike storage facility for resident students. If you are someone who loves exploring you are in for a treat as there are several bus and train links in close proximity. The property has a secure door entry system and 24/7 CCTV cameras.
On weekends you can choose to spend time with your friends in the common room or also challenge a friend to a game of pool. You and your friends can taste food from different cultures by accessing the communal kitchen. On some evenings you can unwind and have great conversations with your friends in the outdoor courtyard.
The best part about The Print House
student accommodation Loughborough
is that all your utility bills are included in your rent amount itself. Also, they have an on-site maintenance team that is available to help you whenever needed. The property offers contents insurance and in-house housekeeping to students.
The Print House accommodation Loughborough is a popular choice among students because of its pricing and the several facilities it has to offer.
Offers
Refer A Friend And Get Rewarded
Property Amenities
Wifi
Bike Storage
Broadband
CCTV
Common Room
Secure Door Entry
En-suite
Wheelchair Accessible
Pool Table
Kitchen
On Site Maintenance
Heating
All Bills Included
Bus Links
Train Links
Content Insurance
In-house housekeeping
Parcel receipt
Outdoor Courtyard
On-site Team
Dining table
Communal Kitchen
Study Zone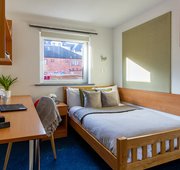 Classic En-suite
An airy Classic en-suite, 13m2 with a ¾ sized bed, wardrobe, storage space, a massive study desk as well as a microwave and mini fridge in every room. Clusters are arranged by floor level with 7 students to one kitchen or 13 to two kitchens.
No Contracts Available At Present.
Classic Studio
A very large 28m2 Classic self-contained studio. With full sized double bed, double wardrobe, lots of storage, huge study desk, en-suite bathroom, a private kitchenette with access to common cluster kitchens and our super-fast internet.
No Contracts Available At Present.