Prince Consort Village
230 Goldhawk Road, London W12 9PL
View in a map
SOLD OUT
View in a map
About Halls
Prince Consort Village is a music hub, built and designed for students in London, with acoustically treated bedrooms – that's why we're the exclusive accommodation partner of the Royal College of Music. Enjoy our West London location, easily accessible via public transport, with fantastic connections to the Royal College of Music as well as Imperial College, Royal College of Art and other parts of London. Whether you choose to travel via Overground, Underground or bus, you'll have a simple commute to your place of study and you can make the most of living in our capital city. With London's West End just a short train ride away, both Ravenscourt Park and Westfield Shopping Centre in the close vicinity, as well as some stylish bars and pubs, there's no need to venture far on your days off. What types of accommodation are available in Prince Consort Village? Every price band in Prince Consort Village comes with access to our incredible state-of-the-art facilities, including an on-site gym, cinema and games areas, alongside 24-hour practice rooms, social spaces and study rooms.

You're also automatically invited to our fabulous Village Life events – we think they're beyond compare! When it comes to selecting your bedroom, we've got options suitable for all! If you're looking for an airy, modern space with a small double bed to call your own, and you're happy to share a kitchen and bathroom with your new flatmates, our Standard Rooms might be just perfect for you. Alternatively, explore our En-Suite options for your own personal bathroom or snap up a Studio or One-Bedroom Apartment for the ultimate privacy. Whether you like cooking solo or you just want to study in peace, you'll have all the space you need here.

Which utilities are included with your rent? Our contemporary student halls offer all-inclusive bills – we make electricity, water, internet and contents insurance part of your rent costs, so you won't need to budget for separate utility payments. We also provide music practice rooms (each with piano), bike storage and a convenient parcel service free of charge. To make your day-to-day tasks as simple as possible we also have an on-site laundry room (payable) on site! Please note that valuable instruments may not be covered as part of your contents insurance, so please check the terms and conditions when you book.
Property Amenities
Wifi
Bike Storage
Onsite Security
Laundry
Wheelchair Accessible
Gym
Cinema
All Bills Included
Content Insurance
24 hour support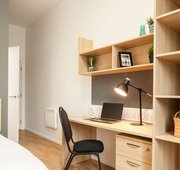 Non Ensuite
Non-En-Suite Rooms provide a small double bed, desk and chair, and a wardrobe and plenty of shelves. Get to know your neighbours in the shared kitchen and lounge area.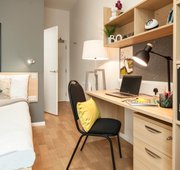 Ensuite
If you're looking for a modern and refreshing space, our En-Suite Rooms for RCM students is a great option. Enjoy your own bathroom, small double bed and concentrate on your work at your private study area. Lots of storage including a wardrobe and shelves.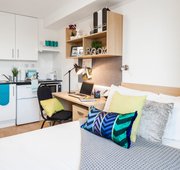 Studio
If you want to experience the sweet taste of independence, our Studio Rooms in London are your perfect match. With en-suite bathroom, private kitchen area and small double bed, you'll live in a comfortable, stress-free space. Whether you've been revising for your end-of-term exams or exploring the hidden gems of England's capital city, you can look forward to relaxing at home. Why not be the host of movie night?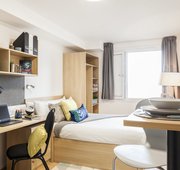 1 Bed Flat
Our 1 bed flat provides everything that you need in one place, with a large entrance area, en-suite bathroom and kitchen. The flat includes a double bed, desk and chair wardrobe and storage under the bed. Bathroom includes bath, shower, basin and toilet while the kitchen comes with a fridge/freezer, microwave, oven, washing machine and dishwasher.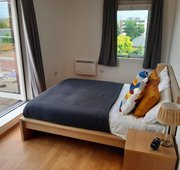 2 Bed Flat
Perfect for a couple or two people sharing. Comes with a large entrance area, shared bathroom, kitchen and spacious outdoor balcony. The flat can be arranged in one of two ways: two bedrooms each with a double bed or one double bedroom and a lounge. Includes wardrobes, desks and chairs. Bathroom includes bath, shower, basin and toilet while the kitchen comes with a fridge/freezer, microwave, oven, washing machine and dishwasher.