McMillan Student Village
McMillan Student Village, Creek Road, London SE8 3BU
View in a map
SOLD OUT
View in a map
About Halls
Studying at Trinity Laban or University of Greenwich? We partner with each institution to make sure our halls offering ticks all of the right boxes and McMillan Student Village is less than a fifteen-minute walk from both. However, we're also surrounded by amazing transport links via bus, train and DLR, so this property is a great choice for other universities too, including Ravensbourne College and Goldsmiths, University of London. When you're in a routine with your commute, there's plenty of activities to sink your teeth into in the surrounding area, whether you want to brush up on your history with a walk around the local stately homes, shop unique gifts and trinkets at Greenwich Market or have a cocktail or two in the borough's most popular bars.

What types of accommodation are available in McMillan Student Village? We specialise in Studio rooms at McMillan Student Village and we've got a whole host of different options depending on your budget, wants and needs! Each room features your private kitchen area, en-suite bathroom and handy study desk, though we provide additional perks if you'd like to pay a little extra; for example, our Gold Studios are on the top floor with views of the city and a Platinum Studio will provide you with a lush double bed and extra floor space.

When you aren't studying, relaxing or cooking up a storm in your own space, McMillan also has a lovely social lounge where you can chat to other tenants and our famous Village Life activities are always on to help you blow off some steam and meet new friends! Which utilities are included with your rent? Juggling uni, studying and an awesome social life is a once-in-a-lifetime experience and we're sure you'll have a ball, but we want to make sure there isn't too much new responsibility on your plate all at once. That's why we've included electricity, water, internet and contents insurance in your weekly payment, so you don't need to organise your utilities singlehandedly.

In our efforts to make things as easy as possible, we've also provided an on-site laundry room, as well as 24-hour security/support and bike storage, not to mention our great parcel service, so we'll make sure any deliveries get to you safely, even if you aren't in the house.
Property Amenities
Wifi
Bike Storage
Onsite Security
Laundry
Wheelchair Accessible
All Bills Included
Content Insurance
Games room
24 hour support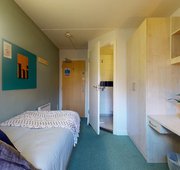 Classic Ensuite
Our Classic En-Suite rooms are a great options if you're looking to relax in the London borough or Greenwich, This room style comes equipped with your very own single bed to cosy up in after a busy day of working, as well as featuring under bed storage so you can store away all of your items, Unwind and take a long shower in your private en-suite bathroom or use your modern desk for the perfect study area or gaming setup.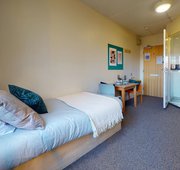 Classic Ensuite Plus
Our Classic En-Suite Plus are the perfect choice if you're after the luxuries of having a private bathroom but a shared kitchen and communal area – it's the best of both worlds! Jump into your comfy double bed after a busy day of working hard at your large study desk. Enjoy sunset views of Greenwich out of your large windows.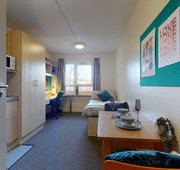 Classic Studio
Within our private studio apartments, you'll find a cosy single bed, a modern desk area, an en-suite bathroom with a shower and sink. If you're wanting a taste of the good life, then you're in luck with your very own kitchenette featuring a microwave, hob, oven, fridge and cupboard space. When you've got friends coming over, your dining table and chairs for two, makes the best space for a lovely meal and a catch up!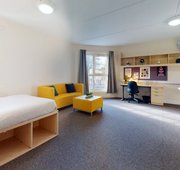 Classic Studio Plus
Our Classic Studio Plus are great if you want your own private space as there's still opportunities to make new friends in McMillan Student Village's communal lounge. This style of room has been designed to give you the very best student experience. Each apartment comes equipped with a comfy double bed, large en-suite bathroom and a studfy area to help you finish off assignments or projects. When its mealtime, use your very own kitchenette with everything you'll need like a fridge, hob and microwave oven.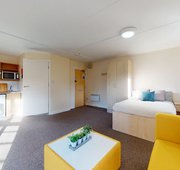 Premium Studio
Our Premium Rooms are the biggest of the array of styles at McMillan Student Village. You'll have tons of extra space to yourself or share with someone else. If you're interested in dual occupancy, this room is perfect with a cosy double bed and en-suite bathroom and your very own kitchen and dining area.