Felda House Wembley
575 North End Road, London HA9 0UU
View in a map
View in a map
About Halls
Get your hands on a room at the Felda House Wembley student accommodation in London. The building is adorned with quirky and colourful interiors that will make each day exciting here. The Felda House Wembley accommodation property enjoys a strong network of bus, train and airport links, so you can explore the city and beyond with impeccable ease.

A large bed, window, storage, the study area is common in every room of the Felda House Wembley accommodation. Ensuite bathrooms ensure your privacy remains unhindered at all times. When you have an important assignment that is due or need to study for an exam, you can head to the library/study area to focus better. The onsite laundry at Felda House Wembley can be used to get rid of dirty clothes regularly, without procrastinating. Your socialising needs can be met in the common room, which is where you and your neighbours can hang out and have a good time. You also have a pool table where you can challenge your friends to a game of pool whenever you feel like it. The cinema room can be used to watch movies/ tv-shows or live stream matches. If you want to get some fresh air without leaving the premises, the outdoor area makes a great place to do so. When the weather gets chilly outside, the centralised heating ensures you remain warm and cosy inside of the Felda House Wembley.

Love to ride bikes? Don't have a safe place to keep them? The student accommodation Felda House Wembley will solve all your worries by offering bike storage. Your safety is always a priority, which is why the premises are protected by a secure entry door, onsite security and CCTV coverage. All the bills will be included in the final rent, so you don't have to spend on any additional charges.

Interested in knowing more about the services offered at Felda House Wembley student accommodation? Get in touch! We would be happy to help you.
Offers
COVID-19 Cancellation & Refund Policy
Property Amenities
Wifi
Bike Storage
Broadband
CCTV
Onsite Security
Common Room
Secure Door Entry
Vending Machine
Laundry
En-suite
Wheelchair Accessible
Pool Table
Kitchen
Freezer
Satellite/Cable TV
On Site Maintenance
Heating
Outdoor area
Library/Study Area
Cinema
All Bills Included
Bus Links
Train Links
Airport Links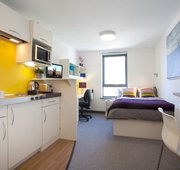 Platinum Penthouse
Room sizes can vary from 23.8m2 to 23.9m2. Located on the top floor (18th). Totally self contained studio with everything you need. Private kitchen facilities Small double bed with under bed storage Wardrobe En-suite shower room Larger living space Study desk and chair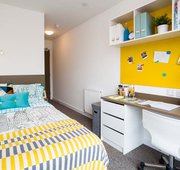 En-suite
Great to share with four other flat mates / friends, there is a communal kitchen with a dining and lounge area. Located between LG and 2nd floor. Room sizes can vary from 13.4m2 to 14m2. What's in the room? 3/4 size double bed with under bed storage Coat hooks Drawers Magnetic board Mirror Plenty of storage Private en-suite shower room Shared communal kitchen with induction hob, combi oven, and fridge freezer Shelves Study space with desk and chair Wardrobe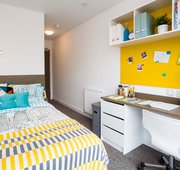 Standard Ensuite
Located between LG and 7th floor. Room sizes can vary from 13.4m2 to 14m2. Shared kitchen and communal space between 5 rooms Small double bed with under bed storage Wardrobe En-suite shower room Study desk and chair
Upper Floor Ensuite
Located on 8th floor and above. Rooms can vary from 13.4m2 to 14m2. Shared kitchen between 5 rooms Small double bed with under bed storage Wardrobe En-suite shower room Study desk and chair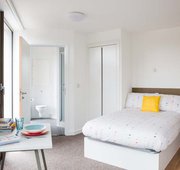 Bronze Studio
Located between ground and 5th floor. Room sizes can vary from 17.1m2 to 18.8m2. Private kitchen facilities Small double bed with under bed storage Wardrobe En-suite shower room Study desk and chair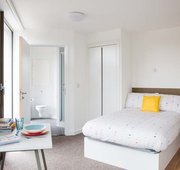 Silver Studio
Located between 6th and 10th floor. Room sizes can vary from 17.1m2 to 18.8m2. Private kitchen facilities Small double bed with under bed storage Wardrobe En-suite shower room Study desk and chair Views of London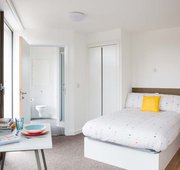 Gold Studio (accessible)
Located between lower ground level and 12th floor. Room sizes can vary from 21m2 to 21.4m2. Totally self contained studio with everything you need, adapted for students with limited mobility. Private kitchen facilities Small double bed with under bed storage Wardrobe Accessible en-suite shower room Study desk and chair
Platinum Studio
Located on the 16th and 17th floors. Private kitchen facilities Small double bed with under bed storage Wardrobe En-suite shower room Plenty of storage Study desk and chair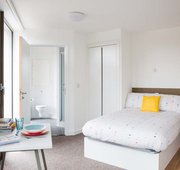 Platinum Studio (accessible)
Located on upper ground floor and up. Room sizes can vary from 23.8m2 to 23.9m2. Private kitchen facilities Small double bed with under bed storage Wardrobe En-suite shower room Plenty of storage Study desk and chair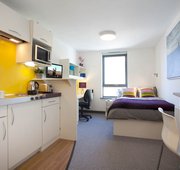 Penthouse
Located on the top floor (18th). Private kitchen facilities Small double bed with under bed storage Wardrobe En-suite shower room Plenty of storage Study desk and chair