Blithehale Court
10 Witan Street, London E2 6FG
View in a map
SOLD OUT
View in a map
About Halls
Blithehale Court is located on Witan Street and is only 8 minutes away from
Queen Mary University (Whitechapel Campus)
and the
London Metropolitan University (Aldgate Campus)
. You can pick from the facility's different en-suite rooms and opulent studios at Blithehale Court student accommodation.
Blithehale Court student accommodation is ideally situated in a prime east London neighbourhood. Blithehale Court accommodation is close to a wide variety of clubs and restaurants, parks like Victoria Park and Bethnal Green Gardens, and is only two minutes from Bethnal Green station.
All of the student apartments at Blithehale Court London feature private bathrooms. Your roommates will use the living room and kitchen if you choose an en-suite. If you want a private apartment with almost everything to yourself, choose a studio. You'll always remember the highlights of your time spent at Blithehale Court accommodation.
Students have the option of choosing an individual studio apartment or a shared apartment with an en-suite room at Blithehale Court London. The studio apartment features a separate bedroom with a bathroom, storage, a work area, a fully equipped kitchen, and a living room. A 24-hour on-site security crew at Blithehale Court student accommodation helps to ensure your security.
There is a specific study room at Blithehale Court accommodation. Outside of your room, there are quiet study areas with desks and chairs, as well as a communal lounge with couches, a TV, table football, and ping pong. Also, Blithehale Court London offers a courtyard outside with a large chess set, chairs, and picnic areas that are perfect for summertime refreshment. Hence, you can strike the perfect balance between academic and social life.
Blithehale Court student accommodation's cost also covers bike storage in addition to free, lightning-fast wifi. As an international student, you can count on the Blithehale Court accommodation to take care of any last-minute needs to make your stay worthwhile.
Blithehale Court London is perfect for university students, as many hip cafés, bars, and exciting nightlife options are nearby. England's entire transportation system is expected to rank among the most effective in the world. Every significant transit hub that is conveniently accessible and close to every one of London's institutions is cleverly connected to the city. The DLR (a machine-driven light rail), buses, trams, and the famous
London
Underground Tube are just a handful of the numerous transportation options that people have in London. The tube is and always will be your best buddy when it comes to local transport.
Offers
Flexible Contracts Available. T&C's Apply*
Flexible Move-in Dates Available. T&C's Apply*
Property Amenities
Wifi
Bike Storage
CCTV
Common Room
Vending Machine
Laundry
En-suite
Wheelchair Accessible
All Bills Included
Outdoor Courtyard
Games room
Study Zone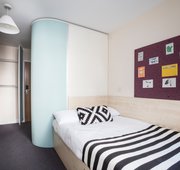 Ensuite
En-suite rooms are packed with features such as a private bathroom, a comfortable single bed, your own desk and Wi-Fi connected work space. A typical room is 12.5 metres squared.You will have a shared lounge and fully fitted kitchen area to relax in with your flat mates.You'll find plenty of room for your stuff with a large wardrobe and under-bed storage space.
See 3 More Bookings OptionsShow Less