The Lantern
Lime Street, Liverpool L1 1JD
View in a map
View in a map
About Halls
Have fun living at The Lantern- one of Liverpool's most sought-after accommodations. The rooms are luxurious, feature beautiful interiors and come equipped with modern amenities. Students can take advantage of its proximity to the local universities and skip the commute.
All the rooms at
The Lantern student accommodation
come with a large bed that promotes quality sleep. Storage will never be a problem since there's plenty of it available in all the rooms here. Apart from this, you will also have a lot of space to move around or do your yoga/ workout. When you're hungry, you can simply head to the kitchen and whip yourself a delicious meal! You'll also have ensuite bathrooms, so your privacy will never be hindered at The Lantern accommodation. Get your entertainment fix at the indoor cinema here, where you can watch movies/tv-shows or live stream matches with your friends. If you're serious about meeting your fitness goals, the indoor gym will be of great help. It's fully equipped, enhancing your workout sessions for you. There's also a library/study area for you to sit peacefully and study or work when you have exams coming up. The laundry within the student accommodation The Lantern premises will help you do your chores on time, without procrastinating.
You'll have access to superfast wifi every day, so choose a corner and get to work! The Lantern is protected by CCTV coverage and a secure entry door, so you and your parents can enjoy good sleep every night. All the bills will be included in the final rent, so you don't have to worry about paying additional charges at The Lantern accommodation.
Interested in knowing more about the services offered at The Lantern student accommodation? Get in touch! We would be happy to help you.
Offers
International Guarantors Accepted
Property Amenities
Wifi
CCTV
Common Room
Secure Door Entry
Laundry
En-suite
Gym
Kitchen
On Site Maintenance
Library/Study Area
Cinema
All Bills Included
Content Insurance
Social Calendar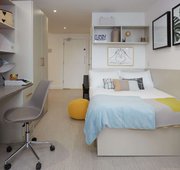 Bronze En Suite Plus
Equipped with all of our usual great features including a small double bed, en suite shower room, storage, space to study and use of the shared kitchen/living room but between you and just three other flatmates. Average room 13.5 sqm.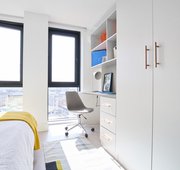 Bronze En Suite
Enjoy having your own small double bed alongside your own en suite shower room, spacious desk space, storage space, and making friends with your new flatmates in the shared kitchen/living room, within a 5-6 bed shared apartment. Average room 13.5 sqm.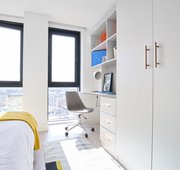 Silver En Suite
Found on the 5th and 6th floor, these shared flats include all of the essentials with an en suite shower room, small double bed, work space and plenty of storage. External decorative features provide shade and privacy but do restrict your views out, within a 6-bed shared apartment. Average room 13.5 sqm.