Sugarhouse Close
41 Holyrood Road, Edinburgh EH8 8FF
View in a map
TBC
View in a map
About Halls
Welcome to the Sugarhouse Close Student Accommodation, a traditional close knit community based accommodation located in the middle of the historic Old Town area, Sugarhouse Close accommodation is a beautifully restored 19th-century brewery. It's a 15-minute walk from the
University of Edinburgh
and offers some stunning views of Arthur's Seat.
At Sugarhouse Close, we think of every student's budgets and needs with somewhere around 300 fully furnished modern rooms. Some of these rooms offer fantastic views of places like Salisbury Crags and Holyrood Park. If you appreciate your own space and prefer to be alone you can choose to have a room with a private bathroom but if you are okay with sharing and company you can share a kitchen and living area with others. Alternatively, you can go for a studio if you prefer to have your own independent living space.
At Sugarhouse Close Student Accommodation we understand the importance of unwinding and mingling with other residents that is why the common room in Sugarhouse Close Accommodation is designed to make the most of the historic buildings, with glass walls and ceilings that let you enjoy the surroundings. You can play pool or ping pong, or simply watch TV while looking out at the beautiful city of Edinburgh. If you love nature, you can sit in the courtyard and enjoy an uninterrupted view of Arthur's Seat.
Living in the heart of the city means you can easily walk to many of the wonderful places Edinburgh has to offer. You will be right next to Holyrood Abbey and the Scottish Parliament Building, and there are many other historic landmarks nearby. Plus, there's a Tesco Express store next door, making your daily shopping convenient. What more could you want?
So what are you waiting for? Join us at Sugarhouse Close Accommodation in Edinburgh a historic building in the Old Town of Edinburgh, offering modern accommodation with various room options. Its central location allows you to explore many cultural and historical landmarks on foot, with all the necessary amenities located nearby for your shopping needs making Sugarhouse Close Student Accommodation a very convenient fit for every college going student. It's the perfect fit to be our home away from home while you are studying at the University of Edinburgh.
Property Amenities
Wifi
Bike Storage
CCTV
Common Room
Secure Door Entry
Laundry
On Site Maintenance
Outdoor area
All Bills Included
Content Insurance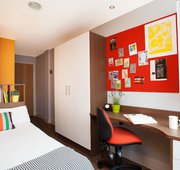 Ensuite Classic
3/4 bed 13.0m2 room 3- 10 flatmates
No Contracts Available At Present.