Julian Court
28 Queens Road, Coventry CV1 3BP
View in a map
View in a map
About Halls
Julian Court is your all-in-one student facility which strives to provide a comfortable living space for students. Julian Court student accommodation is located conveniently near the Coventry railway station. Julian Court is also only a short stroll away from Coventry University and the University of Warwick. This humble student accommodation will be the best choice for students looking for a homely atmosphere.

Julian Court Coventry offers 66 student accommodation rooms. Couples are also allowed to live together in certain studios at Julian Court. Their 3 studio types come equipped with beds, desks, chairs, cabinets, a kitchenette, and a modern en-suite bathroom. Cleaning services are provided for free for common areas. Julian Court student accommodation has onsite facilities like laundry, bike storage, free gym membership, common rooms, and many more.

Julian Court Coventry has a sprawling courtyard for students to hang out and socialise. Julian Court student accommodation has water, electricity, heating, and wifi charges included in the rental agreement. Julian Court has 24*7 CCTV surveillance to ensure the safety and security of students.

Students can even bring their bikes and two-wheelers to save on public transport charges and store them at Julian Court Coventry storage. They are very flexible with their rental agreements and will offer you the best accommodation within your set budget.
Offers
Refer A Friend And Get Rewarded
No Visa No Pay, No Place No Pay
Property Amenities
Wifi
Bike Storage
CCTV
Common Room
On Site Maintenance
Library/Study Area
All Bills Included
Content Insurance
Social Calendar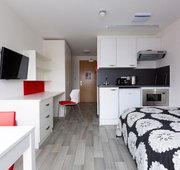 Classic Studio
Relax in the privacy of a fully self-contained apartment. Your living space, cooking and bathing facilities are all just for you. Size around 18.5 m² with one window. Bedroom: • Bed(120cm*190cm) • Bedside table • Wardrobe • Desk • Chair • Notice board • TV(not including TV license) • Shelving unit • Dining table and chairs Kitchen: • Integrated microwave and oven • Hobs • Fridge with freezer compartment • Sink Bathroom: • Shower cubicle • Toilet • Basin • Mirror
See 1 More Bookings OptionsShow Less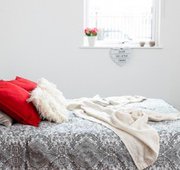 Deluxe Studio
Relax in the privacy of a fully self-contained apartment. Your living space, cooking and bathing facilities are all just for you. Size around 22 m². Bedroom: • Bed(120cm*190cm) • Bedside table • Wardrobe • Desk • Chair • Notice board • TV(not including TV license) • Shelving unit • Dining table and chairs Kitchen: • Integrated microwave and oven • Hobs • Fridge with freezer compartment • Sink Bathroom: • Shower cubicle • Toilet • Basin • Mirror • DDA
See 1 More Bookings OptionsShow Less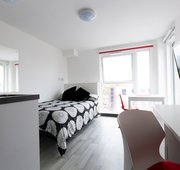 Premium Studio
Relax in the privacy of a fully self-contained apartment. Your living space, cooking and bathing facilities are all just for you. Size around 18.5 m² with two windows. Bedroom: • Bed(120cm*190cm) • Bedside table • Wardrobe • Desk • Chair • Notice board • TV(not including TV license) • Shelving unit • Dining table and chairs Kitchen: • Integrated microwave and oven • Hobs • Fridge with freezer compartment • Sink Bathroom: • Shower cubicle • Toilet • Basin • Mirror
See 1 More Bookings OptionsShow Less