Elmstead Place
48 Elmstead Road, Colchester CO4 3GD
View in a map
SOLD OUT
View in a map
About Halls
Elmstead Place has a variety of townhouses and studios available so you can live your best student life and enjoy a home away from home. With its own private en-suite bathroom and a combined kitchen, dining, and living area, Elmstead Place student accommodation is fantastic for those who desire a combination of independent and shared living.

On-site amenities at Elmstead Place include Wi-Fi and broadband access everywhere, a number of common rooms for studying and meeting people, laundry facilities, bike storage, a manicured courtyard, and more at the Elmstead Place student accommodation.

The building's designs and material selections of Elmstead Place student accommodation aim to be considerate of the nearby residential properties, and the landscaped exterior realm creates an appealing setting. This gives residents of Elmstead Place Colchester the chance to experience off-campus living while still enjoying the benefits of being in a specially designed student environment.

Elmstead Place is well situated for you to discover Colchester because it is very next to the University of Essex campus and just a short bus ride from the town centre. Colchester, which is known as Britain's oldest town, provides all you require for your stay. There is something for everyone, from Colchester Castle situated in gorgeous Castle Park to Lion Walk Shopping Centre. Remember to visit the market on Fridays and Saturdays in the town centre.

Elmstead Place student accommodation is close to bus stops, where you may go throughout Colchester and the neighbourhood. Bus numbers 62 and 61 will take you directly to the town centre. Bus number 75 will take you to Colchester Zoo, which has been named one of the top two zoos in the United Kingdom.

You may take full advantage of living and studying in this ancient town because the town centre is just a short bus trip away from Elmstead Place Colchester. You will have a high level of comfort at Elmstead Place, ensuring that you are living in the nicest location imaginable.
Property Amenities
Wifi
Bike Storage
CCTV
Onsite Security
Common Room
Secure Door Entry
Laundry
En-suite
Wheelchair Accessible
On Site Maintenance
Outdoor area
All Bills Included
Content Insurance
Parcel receipt
Outdoor Courtyard
Unlimited wifi
On-site Team
Study Zone
7-bed Townhouse – Ground Floor Premier En-suite
Room sizes may vary from 14.8m2 to 15m2 Coat hooks Double bed with headboard storage, USB charging point, and light switch Double wardrobe En-suite bathroom with shower and WC Full-length mirror Pinboard Shelving Study desk with drawer space and chair What's in the shared kitchen? Lounge / sofa area Shared dining table and chairs TV Two 4-ring hobs with extractors Two electric ovens Two full-size fridge freezers Two sinks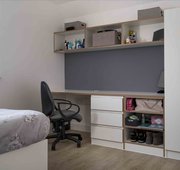 7-bed Townhouse – Premier En-suite
Room sizes may vary from 14.2m2 to 14.9m2 Coat hooks Double bed with headboard storage, USB charging point, and light switch Double wardrobe En-suite bathroom with shower and WC Full-length mirror Pinboard Shelving Study desk with drawer space and chair What's in the shared kitchen? Lounge / sofa area Shared dining table and chairs TV Two 4-ring hobs with extractors Two electric ovens Two full-size fridge freezers Two sinks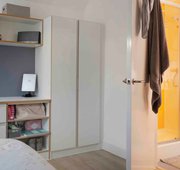 9-bed Townhouse – Premier En-suite
Room sizes may vary from 14.8m2 to 15m2 Coat hooks Double bed with headboard storage, USB charging point, and light switch Double wardrobe En-suite bathroom with shower and WC Full-length mirror Pinboard Shelving Study desk with drawer space and chair What's in the shared kitchen? Lounge / sofa area Shared dining table and chairs TV Two 4-ring hobs with extractors Two electric ovens Two full-size fridge freezers Two sinks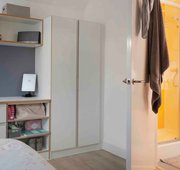 9-bed Townhouse – Large Premier En-suite
Room sizes may vary from 18m2 to 18.1m2 Coat hooks Double bed with headboard storage, USB charging point, and light switch Double wardrobe En-suite bathroom with shower and WC Full-length mirror Pinboard Shelving Study desk with drawer space and chair What's in the shared kitchen? Lounge / sofa area Shared dining table and chairs TV Two 4-ring hobs with extractors Two electric ovens Two full-size fridge freezers Two sinks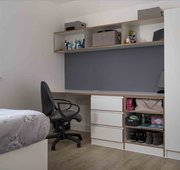 7-bed Townhouse – Extra Large Premier En-suite
Room sizes may vary from 17.8m2 to 18.7m2 Coat hooks Double bed with headboard storage, USB charging point, and light switch Double wardrobe En-suite bathroom with shower and WC Full-length mirror Pinboard Shelving Study desk with drawer space and chair What's in the shared kitchen? Lounge / sofa area Shared dining table and chairs TV Two 4-ring hobs with extractors Two electric ovens Two full-size fridge freezers Two sinks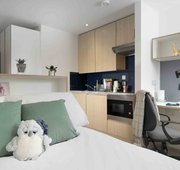 Ground Floor Premier Studio
2-ring hob with extractor Breakfast bar Coat hooks Double bed with under bed storage, headboard storage, USB charging point, and light switch Double wardrobe En-suite bathroom with shower and WC Full-length mirror Integrated fridge with freezer compartment Microwave oven Pinboard Shelving Stool Study desk with drawer space and chair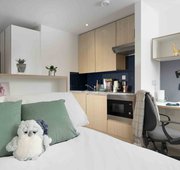 Premier Studio
2-ring hob with extractor Breakfast bar Coat hooks Double bed with under bed storage, headboard storage, USB charging point, and light switch Double wardrobe En-suite bathroom with shower and WC Full-length mirror Integrated fridge with freezer compartment Microwave oven Pinboard Shelving Stool Study desk with drawer space and chair
Dual Aspect Premier Studio
2-ring hob with extractor Breakfast bar Coat hooks Double bed with under bed storage, headboard storage, USB charging point, and light switch Double wardrobe En-suite bathroom with shower and WC Full-length mirror Integrated fridge with freezer compartment Microwave oven Pinboard Shelving Stool Study desk with drawer space and chair
Large Premier Studio
Room sizes may vary form 21.5m2 to 22m2 2-ring hob with extractor Breakfast bar Coat hooks Double bed with under bed storage, headboard storage, USB charging point, and light switch Double wardrobe En-suite bathroom with shower and WC Full-length mirror Integrated fridge with freezer compartment Microwave oven Pinboard Shelving Stool Study desk with drawer space and chair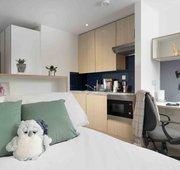 Extra Large Premier Studio
2-ring hob with extractor Breakfast bar Coat hooks Double bed with under bed storage, headboard storage, USB charging point, and light switch Double wardrobe En-suite bathroom with shower and WC Full-length mirror Integrated fridge with freezer compartment Microwave oven Pinboard Shelving Stool Study desk with drawer space and chair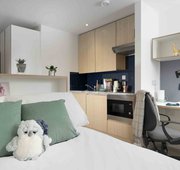 Penthouse
2-ring hob with extractor Breakfast bar Coat hooks Double wardrobe En-suite bathroom with shower and WC Full-length mirror Integrated fridge with freezer compartment King bed with under bed storage, headboard storage, USB charging point, and light switch Microwave oven Pinboard Shelving Stool Study desk with drawer space and chair