Rhodaus Court
Flats 1 – 38, 5 – 5A Rhodaus Court Kent, Canterbury CT1 2RJ
View in a map
View in a map
About Halls
Canterbury's Rhodaus Court offers dorm accommodations to students attending surrounding universities. The Rhodaus Court student accommodation provides a number of amenities, such as all-inclusive bills, on-site laundry services, free Wi-Fi, and rooms designed for comfort. There are management and maintenance personnel available on-site at Rhodaus Court Canterbury, CCTV surveillance available around-the-clock, and secure bike parking. A free on-site gym, a cinema area where you can hang out and watch favourite shows and movies with your friends, and a beautiful courtyard where you can enjoy the fresh air and go for a relaxing stroll.

Additionally, the reception area at the Rhodaus Court student accommodation has study spaces that support both solo and group study. These locations are also ideal for times when you need a getaway.Rhodaus Court is situated in the heart of Canterbury. Its occupants may easily and independently explore areas in the city. Hidden City Tours, which entertains and teaches you everything about Canterbury and is only a 9-minute walking distance from the Rhodaus Court student accommodation, is a great opportunity to learn about the city's history and the specifics of its long-forgotten past. Another ancient site close is the Canterbury Roman Museum, which can be reached by foot in just 8 minutes from the property.

There are many neighbouring eateries and takeaway places surrounding Rhodaus Court, where you can get meals, like Nando's, which is just 12 minutes away on foot, Urban Wok Box, a Pan-Asian restaurant, which is 8 minutes away on foot, and Tacos Locos, a Mexican restaurant, that is approximately 12 minutes away. The city centre is easily accessible at any time of day or night, thanks to the location of Rhodaus Court being on the 24-hour university bus route. This makes it easier for the students to access transportation without any difficulty and be on the go to plan out a hangout day or grab essentials anytime.

Rhodaus Court has all the required amenities and luxury to make your stay at this accommodation, relaxing and memorable. At the Rhodaus Court student accommodation you wouldn't feel bored because of all the enjoyment lying beside you.
Property Amenities
Wifi
Bike Storage
CCTV
Onsite Security
Common Room
Secure Door Entry
Laundry
Gym
On Site Maintenance
All Bills Included
Content Insurance
Outdoor Courtyard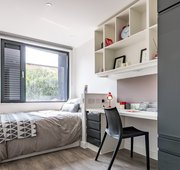 Classic En-suite (9-11 Beds)
Room sizes range from 12m2 – 24.4m2 This room is within either an 8 or 12 bed cluster ¾ size bed with under bed storage, integrated lamp switch and USB socket in headboard Private en-suite shower room with WC, mixer tap sink, mirror, shelf, shaver supply socket, hand towel ring, towel rail, shower tray and sliding door Double wardrobe with drawers, a full length mirror and a double cupboard above Black out blind Study desk and chair with drawer space Pin notice board Bookshelf storage Coat hook Wireless internet access and Ethernet port Key card door access control and peephole Shared kitchen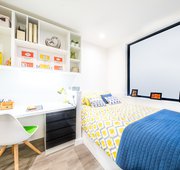 Premier En-suite (7-8 Beds)
Room sizes range from 11.7m2 23.8m2 - This room is within an 8 bed cluster - size bed with under bed storage, integrated lamp switch and USB socket in headboard - Private en-suite shower room with WC, mixer tap sink, mirror, shelf, shaver supply socket, hand towel ring, towel rail, shower tray and sliding door - Double wardrobe with drawers, a full length mirror and a double cupboard above - Black out blind - Study desk and chair with drawer space - Pin notice board - Bookshelf storage - Coat hook - Wireless internet access and Ethernet port - Key card door access control and peephole - Shared kitchen - Whats in the shared kitchen and dining area? - Four ring induction hob - Electric oven - Full height fridge and two under counter freezers - Microwave, Kettle, Toaster - Shared dining table and chairs - Recycling and waste bins - Two sofas and a wall mounted TV - Coffee table - Pin notice board - Iron, Ironing board - Mop and Bucket - Vacuum cleaner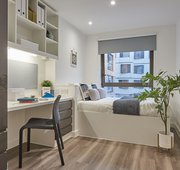 Premium Cluster En-suite (5-6 Beds)
Room sizes range from 11.7m2 – 23.8m2 This room is within a 5 or 6 bed cluster ¾ size bed with under bed storage, integrated lamp switch and USB socket in headboard Private en-suite shower room with WC, mixer tap sink, mirror, shelf, shaver supply socket, hand towel ring, towel rail, shower tray and sliding door Double wardrobe with drawers, a full length mirror and a double cupboard above Black out blind Study desk and chair with drawer space Pin notice board Bookshelf storage Coat hook Wireless internet access and Ethernet port Key card door access control and peephole Shared kitchen What's in the shared kitchen and dining area? Four ring induction hob Electric oven Full height fridge and two under counter freezers Microwave, Kettle, Toaster Shared dining table and chairs Recycling and waste bins Two sofas and a wall mounted TV Coffee table Pin notice board Iron, Ironing board Mop and Bucket Vacuum cleaner