Currus Court
Currus Court, Rhodaus Town, Canterbury CT1 2RS
View in a map
SOLD OUT
View in a map
About Halls
Welcome to Currus Court Student Accommodation, the ultimate home away from home that offers more than just a roof over your head. This luxurious property is designed to provide you with the ultimate living experience that meets all your needs and desires. Whether you are a student or a young professional, Currus Court Accommodation is the perfect place for you to call home.
Let's start with the stunning communal spaces at Currus Court Canterbury, that are sure to impress. These areas are perfect for hanging out with your friends, getting to know your fellow residents, or just relaxing after a long day. Imagine kicking back on one of the plush sofas, enjoying a cup of coffee or tea, and chatting with your roommates or neighbours.
But that's not all. Currus Court also boasts a state-of-the-art group study space that is perfect for those times when you need to hit the books. This space is equipped with everything you need to get your work done, including desks, chairs, and plenty of natural light.
Looking for some fresh air and a stunning view of Canterbury? Then head up to the exclusive rooftop terrace, where you can soak up the sun, take in the breathtaking views, and catch up with your friends. And when the sun goes down, you can cosy up under a blanket and watch a movie under the stars at the rooftop outdoor cinema.
But the perks of living at Currus Court Student Accommodation don't stop there. As a resident, you'll also have access to the fantastic facilities at our sister properties, Palamon Court and Rhodaus Court. This means you'll have two free gyms at your disposal, as well as a host of other amenities.
And let's not forget about the location. Situated in the heart of Canterbury, Currus Court Accommodation is surrounded by all the beauty and history that this charming city has to offer. Also located just a stone's throw away from the
University of Kent
making the commute hassle-free. Take a stroll through the beautifully landscaped Dane John Gardens, visit the historic Canterbury Castle, or indulge in some retail therapy on the high street.
And if you're a student, you'll be happy to know that Currus Court Canterbury is conveniently located on the 24-hour university bus route, making it easy to get to the University of Kent and the city centre at any time of the day or night.
In summary, Currus Court Student Accommodation is the perfect place for anyone looking for a luxurious and convenient living experience in
Canterbury
. With its impressive communal spaces, state-of-the-art group study space, exclusive rooftop terrace, and access to fantastic facilities at our sister properties, you won't find a better place to call home. So why wait? Book your spot at Currus Court today and start living your best life.
Property Amenities
Wifi
Bike Storage
CCTV
Onsite Security
Common Room
Laundry
En-suite
Gym
Kitchen
Freezer
On Site Maintenance
Outdoor area
Cinema
All Bills Included
Maintenance
Content Insurance
Outdoor Courtyard
Unlimited wifi
Games room
Cleaning Service Included
On-site Team
24 hour support
Support Staff
Garden
Study Zone
24 hour concierge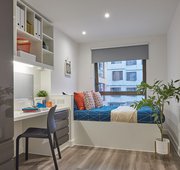 Standard En-suite (7/9/11 Bed)
Room sizes range from 13.93 – 14.92m2 As part of either a 4, 5, 7, 9 or 11 bed cluster. Most of the rooms will be within a 7 bed cluster. ¾ size bed with under bed storage Private en-suite shower room with WC, mixer tap sink, mirror, shelf, shaver supply socket, hand towel ring, towel rail, shower tray and sliding door. Double wardrobe with drawers a full length mirror and a double cupboard above Black out blind Study desk and chair with drawer space Pin notice board Bookshelf storage Coat hook Integrated lamp Wireless internet access and Ethernet port Key card door access control and peephole Shared kitchen What's in the shared kitchen and dining area? Four ring ceramic hob Electric oven Fridge Freezer Microwave, Kettle, Toaster Shared dining table and chairs Recycling and waste bins Two sofas and a wall mounted TV Pin notice board Mop and Bucket Access to Vacuum cleaner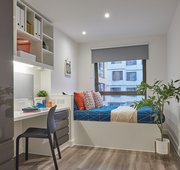 Standard En-suite Superior (7 Bed)
Room sizes range from 13.93 – 14.92m2 Situated on the upper floors of Currus Court you'll have fantastic views over the city and Dane John Gardens As part of either a 4, 5, 7, 9 or 11 bed cluster. Most of the rooms will be within a 7 bed cluster. ¾ size bed with under bed storage Private en-suite shower room with WC, mixer tap sink, mirror, shelf, shaver supply socket, hand towel ring, towel rail, shower tray and sliding door. Double wardrobe with drawers a full length mirror and a double cupboard above Black out blind Study desk and chair with drawer space Pin notice board Bookshelf storage Coat hook Integrated lamp Wireless internet access and Ethernet port Key card door access control and peephole Shared kitchen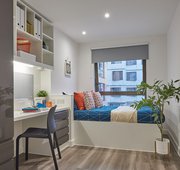 Standard En-suite Roof Superior (9/11 Bed)
Room sizes range from 13.93 – 14.92m2 Situated on the top floor of Currus Court you'll have fantastic views over the city and Dane John Gardens. You'll also benefit from having direct access to the roof terrace. As part of either a 4, 5, 7, 9 or 11 bed cluster. Most of the rooms will be within a 7 bed cluster. ¾ size bed with under bed storage Private en-suite shower room with WC, mixer tap sink, mirror, shelf, shaver supply socket, hand towel ring, towel rail, shower tray and sliding door. Double wardrobe with drawers a full length mirror and a double cupboard above Black out blind Study desk and chair with drawer space Pin notice board Bookshelf storage Coat hook Integrated lamp Wireless internet access and Ethernet port Key card door access control and peephole Shared kitchen