Queen's Hospital Close
Bath Row, Birmingham B15 1NH
View in a map
SOLD OUT
View in a map
About Halls
Queen's Hospital Close student accommodation is situated in the bustling heart of the city of Birmingham in the UK. It is an excellent choice for students wanting to live near the city centre close by to all the facilities and to enjoy a lively social life and to have ease of access when it comes to everyday needs like grocery stores, stationery stores, book shops and more. Here you'll find plenty of bars, clubs, pubs and restaurants where the students can gather without having to spend a lot of time on the commute. Queen's Hospital Close accommodation is a modern and stylish place to live in and is especially convenient since you can get to all three major universities of Birmingham using public transport in a matter of minutes.
Queen's Hospital Close student halls are made up of studios and ensuite rooms that come packed with all modern facilities. Here you will find spacious beds, designated study areas complete with private desks and chairs, access to fully equipped kitchenettes, private bathrooms and access to luxurious living spaces. You can choose the room that fits your personal choice and budget and take advantage of the smart design that makes living here such a joy. Apart from these, the staff at the accommodation also makes living here a lot of fun, thanks to their busy social calendar that includes weekly activities for the students to indulge in and get the opportunity to interact with the other students.
The many facilities offered by Queen's Hospital Close student accommodation include a car park, a dedicated bike storage option where you can put your private or rental bikes when they are not in use, proper safety features like CCTV and on-site security along with several other facilities. An in-house laundry has been provided to ensure that the students don't have to travel too far in search of a place to clean their clothes. The place also has proper study areas and a library Where students can sit and prepare for their exams and make assignments.
Offers
No Visa, No Pay/No Place, No Pay
Property Amenities
Wifi
Bike Storage
Car Parking
CCTV
Onsite Security
Common Room
Laundry
Library/Study Area
Cinema
All Bills Included
Games room
Walk to uni
On-site Team
24 hour support
Support Staff
Study Zone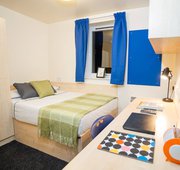 Classic En-suite
Room Size - From 11.7m² Bed - ¾ double bed Studying - Large desk and chair Storage - Bedside table Storage - Underbed storage Storage - Spacious wardrobe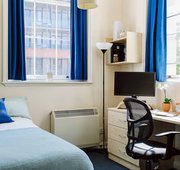 Two-bed Flat
Room Size - From 7m² Bed - ¾ double bed Studying - Large desk and chair Storage - Bedside table Storage - Drawers Storage - Underbed storage Storage - Spacious wardrobe