Beech Gardens
Elvetham Rd, Birmingham B15 2NL
View in a map
SOLD OUT
View in a map
About Halls
Beech Gardens student accommodation enjoys a perfect location, being conveniently placed from the City centre and the local universities. Equipped with modern amenities makes this a comfortable abode for students. The contemporary styled furnishings add to the beauty of the property.
A typical room at the
Beech Gardens accommodation
consists of a large bed, ample storage, an ensuite bathroom and plenty of space. A designated study area that comprises a desk and a chair also exist within the room. You'll also have a large window that lets in plenty of sunlight inside your room every day. For your entertainment, the property also has a satellite/cable TV connection which you can enjoy alone or with friends. Beech Gardens student accommodation also offers an in-house laundry facility, so you can get rid of dirty clothes easily. If you want some fresh air or sunlight without getting out, the outdoor area at the Beech Gardens is where you can head to. If you use a bike to get around the city, you can safely store it at the in-house bike storage here.
Choose your favourite spot anywhere in the building and get to work with the superfast wifi here. The Beech Gardens property is protected by a secure entry door, letting you enjoy a good nights sleep. On-site maintenance is also offered, making life here even more comfortable. Following an all-inclusive policy, you won't have to spend money for additional bills at the student accommodation Beech House.
Interested in knowing more about the services offered at Beech Gardens accommodation? Get in touch! We would be happy to help you.
Property Amenities
Bike Storage
Car Parking
Broadband
Secure Door Entry
Laundry
Satellite/Cable TV
On Site Maintenance
Outdoor area
All Bills Included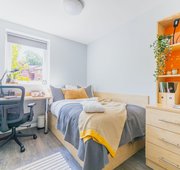 Classic Room - Ground Floor
Included at Beech Gardens: - CCTV surveillance - Free laundry facilities - High-speed WIFI - Bills included - TV's in all clusters - Bike Storage - On-site Property Management - Free gated parking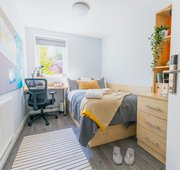 Classic Room - First Floor
Included at Beech Gardens: - CCTV surveillance - Free laundry facilities - High-speed WIFI - Bills included - TV's in all clusters - Bike Storage - On-site Property Management - Free gated parking
Classic Room - Ground Floor - Garden View
Included at Beech Gardens: - CCTV surveillance - Free laundry facilities - High-speed WIFI - Bills included - TV's in all clusters - Bike Storage - On-site Property Management - Free gated parking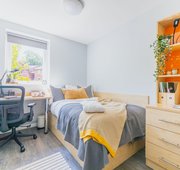 Classic Room - Second Floor
Included at Beech Gardens: - CCTV surveillance - Free laundry facilities - High-speed WIFI - Bills included - TV's in all clusters - Bike Storage - On-site Property Management - Free gated parking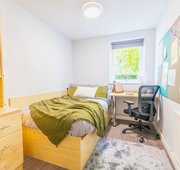 Classic Room - First Floor - Garden View
Included at Beech Gardens: - CCTV surveillance - Free laundry facilities - High-speed WIFI - Bills included - TV's in all clusters - Bike Storage - On-site Property Management - Free gated parking
Classic 3 Bed Flat
Included at Beech Gardens: - CCTV surveillance - Free laundry facilities - High-speed WIFI - Bills included - TV's in all clusters - Bike Storage - On-site Property Management - Free gated parking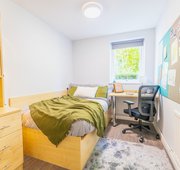 Classic Room - Second Floor - Garden View
Included at Beech Gardens: - CCTV surveillance - Free laundry facilities - High-speed WIFI - Bills included - TV's in all clusters - Bike Storage - On-site Property Management - Free gated parking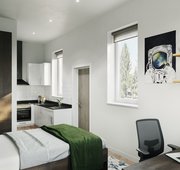 Studio
Included at Beech Gardens: - CCTV surveillance - Free laundry facilities - High-speed WIFI - Bills included - TV's in all clusters - Bike Storage - On-site Property Management - Free gated parking - ¾ bed