Neuadd Kyffin
Neuadd Kyffin, 110a High Street, Bangor LL57 1NZ
View in a map
SOLD OUT
View in a map
About Halls
Looking for the perfect home during your time studying in Bangor? Look no further than Neuadd Kyffin student accommodation! Located on the high street, everything you could possibly need is within a 10-minute walk. Included in this are
Bangor University
, the train station, Asda and Aldi supermarkets, high-end stores, and a wide variety of clubs and pubs.
From en suites to roomy flats, Neuadd Kyffin accommodations offers a range of rooms to suit every budget. No matter what you choose, we've designed every room with students in mind. You'll enjoy a comfortable small double bed, your own ensuite shower room, a study area with a desk and chair, and all your bills included in your rent. Whether you need to live all alone or in one of our awesome shared apartments, the decision is yours. And if you're looking to share the room with a roommate you can do that as well, with no extra fee!
At Neuadd Kyffin Bagon you'll also find an awesome social space where you can catch up with your fellow residents. It has comfy sofas and a large flat-screen TV, perfect for chilling with your friends out after a long day of studying.
Neuadd Kyffin comes with a variety of rooms for each student so if you're looking for an en-suite room, you'll find each one comes with a small but perfectly formed double bed, a dedicated shower room, a spacious study area, and plenty of storage.
But if you prefer your own space, at Neuadd Kyffin student accommodations we also have a self-contained studio flat which might be just what you're looking for. They come with an ensuite shower room, a small double bed, loads of storage, a fitted kitchen, and a study area. With rooms approximately 19m2, you'll have plenty of space to make yourself at home.
Bangor
, the oldest city in Wales, is a dynamic place with great transportation options, a scenic setting, and convenient access to larger cities.
No matter which option you choose, you'll be in the perfect location to make the most of your time in Bangor. And with all your bills included, you can focus on your studies and enjoy all the city has to offer without any worries. Don't hesitate to get in touch with our friendly team to learn more about making Neuadd Kyffin your home away from home.
Property Amenities
Wifi
Broadband
CCTV
Onsite Security
Common Room
Secure Door Entry
Laundry
En-suite
Pool Table
On Site Maintenance
Library/Study Area
All Bills Included
Bus Links
Train Links
Content Insurance
Social Calendar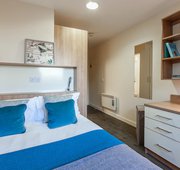 En Suite Room
Each of Neuadd Kyffin's en-suite rooms comes with a small but perfectly formed double bed, a dedicated shower room, spacious study area and oodles of storage.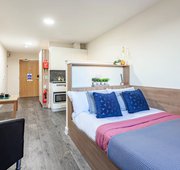 Studio
If you're not the sharing kind then you'll want a self-contained studio apartment with en-suite shower room, small double bed, loads of storage, fitted kitchen and study area. Rooms approx. 19m2.