Binary Hub
Bonham Street, Dublin D04 AE48
View in a map
SOLD OUT
View in a map
About Halls
Binary Hub student accommodation is situated a stone's throw away from the bustling Thomas Street and Smithfield Road. This means that when you choose to stay here, you get access to some of the best shopping places, restaurants and clubs in the city. On top of that, what makes it so popular among students is the fact that there is a direct cycle lane that leads to Trinity College. Since Binary Hub student halls do provide free bike storage options, it becomes a totally practical move to find yourself a place to stay right here.

The many facilities offered by Binary Hub student accommodation include high speed internet across the property, designated games room where students can rewind after a long day of work and studies and an on-site gym which comes fully equipped with all the modern machinery. The place also has an on-site laundry where you can go to do your washing. The place has freezers, common rooms, private study rooms and many such facilities that make living at Binary Hub student accommodation the right choice.

You can choose to stay at one of the many types of rooms available at the Binary Hub student accommodation and no matter which one you choose, you can rest assured that each of these rooms will give you the feeling of being at home. Special attention has been paid to the design of the rooms. You not only get large beds and private bathrooms but also kitchenettes where you can prepare fresh and healthy meals from scratch. Since the space has been designed to allow complete wheelchair access, you can sit back and not worry about accessibility.

The safety and security of the students residing at Binary Hub student accommodation is also of the utmost importance. CCTV cameras have been installed, secure door entry has been provided and on-site teams are also available to ensure that the students always have somewhere to turn to.
Offers
No Visa No Pay
Free Cancellation
Flexible Contracts
No Uni No pay
Free dual occupancy in all studios
Book Now And Get Summer Shopping Voucher. T&Cs Apply*
Property Amenities
Wifi
Bike Storage
Common Room
Secure Door Entry
Wheelchair Accessible
Gym
Freezer
Satellite/Cable TV
Vacuum Cleaner
Private study room
Games room
On-site Team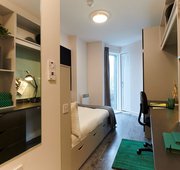 Gold Ensuite
Looking for a bit more space to enjoy? Go for a Gold Ensuite. Bathroom Ensuite Kitchenette Shared WiFi 100Mb Utility bills All included 4ft double bed Plenty of storage More spacious than Bronze & Silver
Bronze Ensuite
This modern ground floor space comes with plenty of storage and study space and a private ensuite. Bathroom Ensuite Kitchenette Shared WiFi 100Mb Utility bills All included 4ft double bed Plenty of storage Located on ground floor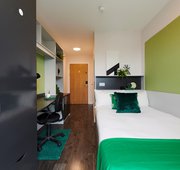 Silver Ensuite
Our Silver Ensuites are an extremely popular choice, located on the first floor or above. Bathroom Ensuite Kitchenette Shared WiFi 100Mb Utility bills All included 4ft double bed Plenty of storage Located on first floor or above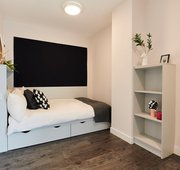 Platinum Ensuite
Our Platinum Ensuites are the best of the best, offering the largest bedrooms in the building. Bathroom Ensuite Kitchenette Shared WiFi 100Mb Utility bills All included 4ft double bed Plenty of storage Our most spacious room