UniLodge @ VU
101 Ballarat Road, Footscray VIC 3011
View in a map
SOLD OUT
View in a map
About Halls
UniLodge @ VU welcomes any students who study in Melbourne. It's easy to see why it is so popular. These stylish, ultra-modern apartments have it all. Access to our building is safe and secure, you'll have access to excellent common areas, rooftop terrace, basketball half-court, games rooms and your own barista café…have you got all day? The list of great features goes on and on. This property, which is a Victoria University's (VU) preferred student accommodation provider, is part of the Footscray University Town so getting to class on time is a breeze. It's conveniently located close to the Footscray train station, tram and bus stops. Heading into the Melbourne CBD only takes 10 minutes.
Offers
Flexible Start Dates Available*
Property Amenities
Wifi
Bike Storage
CCTV
Onsite Security
Common Room
Secure Door Entry
Gym
Pool Table
Satellite/Cable TV
On Site Maintenance
Photocopier
Heating
Library/Study Area
Cinema
All Bills Included
Social Calendar
Printing Service
Garden rooftop terrace
Private study room
Games room
Walk to uni
Dining table
Social Events
Communal Kitchen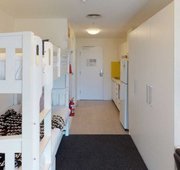 Studio Apartment Twin Share
Our Twin Share Studio Apartments are perfect for students that want on campus living at the lowest price point. It's a no-brainer… all you have to do is scissors paper rock for the top bunk Your self-contained 18m2 apartment includes a dining table, modern kitchenette with fridge, cook top, range hood exhaust and convection microwave. The room also includes hydronic heating for the cooler Melbourne winters, and a fan to circulate the tempered air in the warmer months, a comfortable King Single Bunk Bed, wardrobe, shelves, study desk, study chair, lamp and pin-board, with data port, and fitted with modern blinds. (Please note: There is also a fully equipped communal kitchen and dining near Reception – as well as study rooms, games rooms, outdoor areas and spacious Laundry room) Bed Size: King Single Bunk Bed.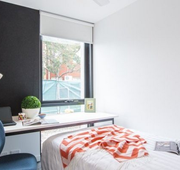 6 Bedroom Apartment Regular
We recommend the 6 Bedroom Apartment, as the smartest room category choice! These are not "dorms" – they are luxurious 125m2 apartments; with keycard access to private bedrooms, huge fully equipped kitchen, separate dining area and comfy TV lounge with ceiling to floor windows. Your apartment has 2 separate toilets, 2 separate showers, and 3 wash basins – so plenty of bathroom space for all! The 6 bedroom apartment is the best way to integrate and sharpen your social integration and wellbeing – whilst maintaining the privacy of your own keycard accessed bedroom. And all this, at the lowest price point! Your fully furnished apartment includes sofas, coffee table, dining table and chairs, hydronic heating, ceiling fans, smart auto sensing lights, bright modern kitchen with double door fridge, 2 separate cook tops and 2 range hood exhausts, a large fitted oven plus a separate microwave, finished off with modern self-closing drawers. NB. there are also 2 x fully equipped communal kitchens on the ground floor for this big group cook-offs (other communal areas in the building include the study rooms on the residential floors, the games rooms, cinema theatrette, a café, outdoor courtyard with BBQs and half-court basketball, spacious and secure Laundromat, plus a rooftop garden deck with city views!). Your private bedroom (within the 6 bedroom apartment) has its own key card swipe access, comes fully furnished with individual hydronic heating for the cooler Melbourne winters, and a multi speed ceiling fan to circulate the tempered air in the warmer months, a comfortable King Single bed, a 3 leaf wardrobe, ample shelving, power and lamps (at the bedhead, and the large study desk), with study chair, huge pin-board, with lots of power points, data port, TV coax point, and fitted with modern blinds. Don't forget you have an electronic key right to your bedroom door. Your rent includes electricity, gas, water and an impressive 50GB of internet data with WiFi connection – a combined saving of approximately $125 a month! Bed Size: King Single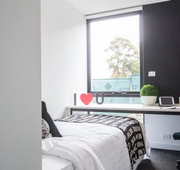 2 Bedroom Apartment Regular
The shared apartment space includes a bright modern kitchenette with cook top, range hood, convection microwave, a full size fridge freezer, dining table with chairs, a compact modern bathroom with toilet, shower, wash basin, vanity with mirror and shelving. NB. there are also 2 x fully equipped communal kitchens on the ground floor for this big group cook-offs (other communal areas in the building include the study rooms on the residential floors, the games rooms, cinema theatrette, a café, outdoor courtyard with BBQs and half-court basketball, spacious and secure Laundromat, plus a rooftop garden deck with city views!). Your bedroom (within a 2 bedroom Apartment) has its own security swipe access for your privacy. It includes hydronic heating for the cool Melbourne winters, and a ceiling fan to circulate the tempered air in the warmer months, a comfortable King Single bed, 3 leaf wardrobe, reading lamps and shelves at your bedhead and the study desk, a study chair, a bedroom TV, large pin-board, data port, lots of power points, and is fitted with modern blinds. Bed Size: King Single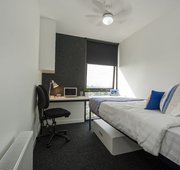 2 Bedroom Apartment Accessible
Your fully furnished apartment designed for mobility and impaired person, it includes a dining table, modern kitchenette with fridge, cook top, range hood exhaust, convection microwave. Your private bedroom (within 2 bedroom apartment) is designed for mobility and impaired person includes hydronic heating for the cooler Melbourne winters, and a fan to circulate the tempered air in the warmer months, a comfortable queen bed, wardrobe, shelves, study desk, study chair, lamp and pin-board, with data port, and fitted with modern blinds. Don't forget you have an electronic key right to your bedroom door. (Please note: There is also a fully equipped communal kitchen and dining near Reception – as well as study rooms, games rooms, outdoor areas and spacious Laundry room) Bed Size: Queen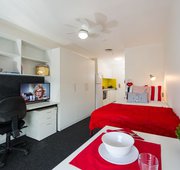 Studio Apartment Regular
Whilst we recommend the 6 Bedroom Apartment as the smartest room category choice, (for social integration at the lowest price point), we would also recommend either a Studio Regular or Studio Queen choice for postgraduate students, who may require that additional level of privacy and personal space. Your self-contained apartment includes a dining table, modern kitchenette with fridge, cook top, range hood exhaust and convection microwave. The room also includes hydronic heating for the cooler Melbourne winters, and a fan to circulate the tempered air in the warmer months, a comfortable King Single bed, wardrobe, shelves, study desk, study chair, lamp and pin-board, with data port, and fitted with modern blinds. Don't forget you have an electronic key right to your bedroom door. (Please note: There is also a fully equipped communal kitchen and dining near Reception – as well as study rooms, games rooms, outdoor areas and spacious Laundry room)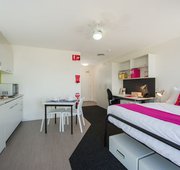 Studio Apartment Deluxe
Your self-contained apartment, whilst designed for mobility and impaired person, is large and spacious, ideal for postgraduate students. It includes a dining table, modern kitchenette with fridge, cook top, range hood exhaust and convection microwave. The room also includes hydronic heating for the cooler Melbourne winters, and a fan to circulate the tempered air in the warmer months, a comfortable queen bed, wardrobe, shelves, study desk, study chair, lamp and pin-board, with data port, and fitted with modern blinds. Don't forget you have an electronic key right to your bedroom door. NB. Priority given to mobility impaired and postgraduate students wherever possible and subject to strict availability (Please note: There is also a fully equipped communal kitchen and dining near Reception – as well as study rooms, games rooms, outdoor areas and spacious Laundry room) Bed Size: Queen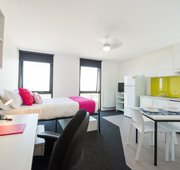 Studio Apartment Accessible
Your self-contained apartment, whilst designed for mobility and impaired person, is large and spacious, ideal for postgraduate students. It includes a dining table, modern kitchenette with fridge, cook top, range hood exhaust and convection microwave. The room also includes hydronic heating for the cooler Melbourne winters, and a fan to circulate the tempered air in the warmer months, a comfortable queen bed, wardrobe, shelves, study desk, study chair, lamp and pin-board, with data port, and fitted with modern blinds. Don't forget you have an electronic key right to your bedroom door. (Please note: There is also a fully equipped communal kitchen and dining near Reception – as well as study rooms, games rooms, outdoor areas and spacious Laundry room) Bed Size: Queen