Mandale Terrace
3-9 Mandale Road, Stockton TS17 6AD
View in a map
View in a map
About Halls
Mandale Terrace is located in the heart of Stockton's town centre surrounded by shops and only a short walk to the railway station.

Perfect for those attending a language school in Stockton, Mandale Terrace is able to offer short terms lets to students wishing to have a 'flying' visit.

Looking for a shorter term? – please ask us for pricing and availability!

With Cloud Student Homes you get more than 'just' your accommodation, we provide a home. From the moment you arrive you are swept into the wonderful world of Cloud, with events, interactions and Reception service, we are here to help you through your degree and onwards!
Offers
Refer A Friend And Get £50 Voucher
Property Amenities
Wifi
CCTV
Common Room
Laundry
Kitchen
Satellite/Cable TV
On Site Maintenance
Content Insurance
On-site Team
Dining table
Communal Kitchen
Reception Staff
Classic En-suite
Facilities:
TV (communal)
WiFi
¾ Bed
Lockable Bedroom
Amenities:
Central Heating
Self Catered
TV (communal)
Vacuum Cleaner
Washing Machine
WiFi
Cooker
Freezer
Microwave
¾ Bed
Desk & Chair
En Suite
Lockable Bedroom
Recycling
See 8 More Bookings OptionsShow Less
Deluxe En-suite
Facilities:
TV (communal)
WiFi
¾ Bed
Lockable Bedroom
Amenities:
Central Heating
Self Catered
Tumble Dryer
TV (communal)
Vacuum Cleaner
Washing Machine
WiFi
Cooker
Freezer
Microwave
¾ Bed
Desk & Chair
En Suite
Lockable Bedroom
Recycling
See 6 More Bookings OptionsShow Less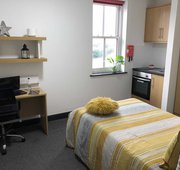 Premier En-suite
Facilities:
TV (communal)
WiFi
¾ Bed
Lockable Bedroom
Amenities:
Central Heating
Self Catered
TV (communal)
Vacuum Cleaner
Washing Machine
WiFi
Cooker
Freezer
Microwave
¾ Bed
Desk & Chair
En Suite
Lockable Bedroom
Recycling
See 3 More Bookings OptionsShow Less