Sharman Court
Sharman Court Broad Lane, Sheffield S1 4FA
View in a map
View in a map
About Halls
Welcome to Sharman Court Student Accommodation, a student halls in Sheffield where you can experience the epitome of stylish and affordable student living Court Student Accommodation, situated in the vibrant heart of Sheffield city. This exceptional accommodation offers the perfect residence for students, with its prime location just a short 12-minute walk from the prestigious
University of Sheffield
and a mere 10-minute stroll from the bustling city centre. Prepare to immerse yourself in a place of comfort and convenience, establish new friendships, and thrive academically while enjoying the utmost comfort at Sharman Court.
We take pleasure in providing a broad selection of fully furnished flats and studios in Sharman Court Sheffield that are created to meet all of your needs.With our all-inclusive packages, you can put an end to the hassle of paying utility bills so you can focus on making the most of your academic experience. Enjoy the independence of cooking your own meals in our shared kitchens, where you may impress your housemates with your culinary skills and develop relationships.You may relax knowing that your private bedroom and en-suite studio will provide a peaceful haven where you can recharge.
For those seeking shared accommodation with friends or family, our spacious two-bedroom apartments are an excellent choice. Each apartment boasts comfortable small double beds and a shared bathroom and kitchen, providing the perfect setting for communal living while still preserving personal space. Create cherished memories and strengthen your bonds in a setting that combines privacy and camaraderie.
Sharman Court Accommodation offers a wide choice of amenities and conveniences in addition to the luxuries of your own home. Utilise our on-site laundry facilities to save time and energy. Additionally, to provide a seamless and trouble-free living experience, our devoted maintenance crew is always available to immediately answer any problems or difficulties that may arise.
Immerse yourself in
Sheffield
, a dynamic city that combines culture, leisure, and academic brilliance. Discover hidden gems, learn about the city's fascinating past, and take part in the vibrant social scene. Forge lifelong friendships and create cherished memories as you navigate your university journey from the prime location of Sharman Court Accommodation in Sheffield.
Sharman Court Student Accommodation presents an unrivalled opportunity to embrace stylish and affordable students living in the heart of Sheffield. With its prime location, fully furnished accommodations, and inclusive packages, you can focus on what truly matters: your education, personal growth, and creating lasting connections. Choose Sharman Court as your home away from home, and embark on a remarkable journey where comfort, convenience, and community intertwine.
Offers
REFER A FRIEND AND GET £100 CASHBACK
No Visa No Pay, No Place No Pay
Property Amenities
Wifi
Bike Storage
CCTV
Onsite Security
Common Room
Secure Door Entry
Laundry
En-suite
On Site Maintenance
Outdoor area
Library/Study Area
All Bills Included
Content Insurance
Social Calendar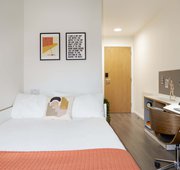 Bronze Ensuite
The same size as a standard room but on higher floors. Each room has a small double bed, en-suite shower room, ample storage and a shared kitchen/living room between 5-7 students.
Silver Ensuite
All our usual fab features set in a roomier setting – with a small double bed alongside the en-suite shower room, ample storage and sharing a kitchen/living room between 5-7 students.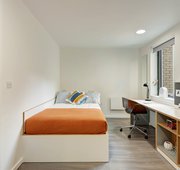 Gold Ensuite
Want extra space? Choose Gold! Small double bed and en-suite shower room, plus storage aplenty and shared kitchen/social space.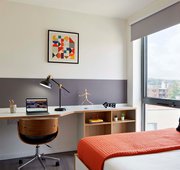 Two Bed Apartment
Enjoy apartments built especially for two who want to share but each have their own bedroom. The study bedrooms come complete with the small double bed and check out the storage. There's a shared bathroom and kitchen just for the two of you.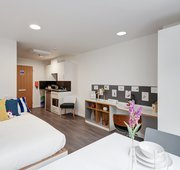 Silver Studio
If you like to spread out, then this spacious studio could be for you. The top notch facilities feature an en-suite shower room, small double bed, storage, fitted kitchen and study area.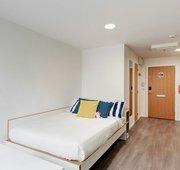 One Bed Apartment
The study bedroom, complete with en-suite shower room, has plenty of space for the small double bed and check out the storage and then step out into your very own kitchen area and breakfast bar.
Gold Studio
This beauty of a studio, even bigger than the Silver but with the same quality features and fittings, comes with space guaranteed.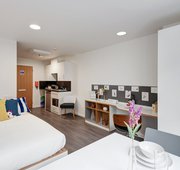 One Bed Apartment Premium
All the same great features but check out all the space you have - all to yourself, or to share as a couple.
No Contracts Available At Present.