Printworks - Sheffield
20 Hodgson Street, Sheffield S3 7WQ
View in a map
View in a map
About Halls
Welcome to Printworks student accommodation in Sheffield. Printworks accommodation is a perfect place for students looking for a convenient place to live while they pursue their academic journey, Printworks Student Accommodation in Sheffield is a great option. This contemporary apartment complex, located in the centre of the city, is designed specifically for students, providing a warm and functional place for work and play.
Location is crucial, and Printworks is at an ideal and accessible location. Many universities are nearby, making it a preferred choice for students who desire quick access to their academic institutions.
Imagine yourself entering one of our chic studios at printworks accommodation. These areas were created with students in mind, so you will have access to everything. Each studio at The Printworks accommodation is furnished with modern decor, huge windows that let in plenty of light, and contemporary furniture. This produces a welcoming and inspiring environment that is ideal for both studying and unwinding. We've also maximised the area by giving you a comfortable living area, a fully functional kitchenette, a private toilet, and a designated study area. All these amenities at your disposal make life as a student easier.
Living at Printworks puts you in the heart of Sheffield, giving you access to the city's thriving arts community, vibrant nightlife, and variety of entertainment alternatives. You have everything you need at your fingertips thanks to the proximity of nearby universities, libraries, commercial areas, and transit hubs.
You may leave the comfort of your studio to explore the dynamic city of
Sheffield
. Because there are so many stores, cultural attractions, and historical sites close by, you can step outside your door and immediately feel the energetic spirit of the city. No matter if you like history or are a shopaholic, you can always find something delicious.
In conclusion, Printworks Student Accommodation in Sheffield is your contemporary and practical home away from home that was created especially for people like you who are students. It is the best option for your academic journey because of its excellent location, cosy living quarters, and close proximity to all the necessities. Choose Printworks as your home away from home and take advantage of the greatest aspects of student living.
Property Amenities
Wifi
CCTV
Common Room
Secure Door Entry
Laundry
Pool Table
Kitchen
Satellite/Cable TV
All Bills Included
Content Insurance
Large beds
24 hour support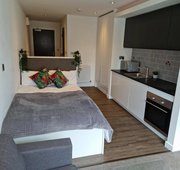 Deluxe Studio
Each studio has furnishings, modern decor, and ample natural light, creating an inviting and inspiring environment. With a focus on optimizing space, our studios provide students with a comfortable living area, a well-equipped kitchenette, a private en-suite bathroom, and a dedicated study area.