Mellor Apartments @ Central Place
59 Edward St, Sheffield S3 7BY
View in a map
View in a map
About Halls
Welcome to Mellor Apartment Student Accommodation, where convenience meets comfort in a world of independent living just a short 5-minute walk from the University of Sheffield. Prepare to be captivated by the charm of our bright and airy 1-2 bed apartments, offering you the ultimate experience of campus proximity and a worry-free lifestyle.
Imagine stepping out of your cozy abode and finding yourself a stroll away from the esteemed halls of the University of Sheffield. There's no need to hurry since the bustling of campus life will be all around you in a matter of minutes. Everything you want is at your fingertips, whether it be attending lectures, participating in study groups, or just soaking up the academic atmosphere.
Leave your worries behind as you indulge in the convenience of bills included. No more fretting over complicated calculations or unexpected expenses. Your focus can now be directed towards pursuing your passions, expanding your horizons, and embracing the fullness of the university experience. With Mellor Apartments Accommodation, simplicity and peace of mind become an integral part of your daily life.
Stay connected to the digital world with our complimentary Wi-Fi, a gateway to endless possibilities. The power of connectivity is yours to embrace, whether you're doing research, keeping in touch with family and friends, or discovering the endless worlds of entertainment. As you traverse the internet environment with ease, immersing yourself in knowledge and remaining linked to the pulse of the modern world, let your imagination soar.
Our devoted on-site maintenance team is here to help if any minor difficulties happen. From a flickering light bulb to a leaky faucet, they'll swiftly come to your aid, ensuring that your living space remains a haven of comfort and functionality. Our first aim is keeping you stress-free so you can concentrate on what's important, which are your academic goals and personal development.
More than just a place to stay, Mellor Apartments in Sheffield serves as the starting point of a remarkable adventure of independence and exploration. Enjoy the bright atmosphere of the
University of Sheffield
while being only a short distance from your house. Take advantage of our free Wi-Fi, enjoy the convenience of hassle-free living with all of your bills paid for you, and rest easy knowing that our devoted maintenance team is always there for you.
Welcome to Mellor Apartments
Student Accommodation in Sheffield
, where simplicity, convenience, and the pursuit of knowledge converge. Step into a world where independent living and campus proximity combine harmoniously. Your adventure awaits, and the path begins at Mellor Apartments.
Offers
*International Guarantors Accepted*
Book And Get £300 Rent Discount Or Gift Pay Vouchers!
BSH's Exclusive Offer. Book Today And Get £50 Cashback. T&C's Apply*.
Property Amenities
Wifi
Bike Storage
CCTV
Common Room
Laundry
Content Insurance
On-site Team
24 hour support
Support Staff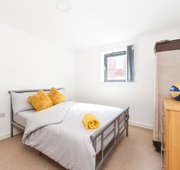 Two Bed Apartment
Self-contained, two-bedroom student apartment The price outlined is per person, per week Small double bed Fully furnished Shared bathroom, kitchen, and living areas