Catherine House
Stanhope Road, Portsmouth PO1 1DZ
View in a map
SOLD OUT
View in a map
About Halls
Catherine House student accommodation is one that offers not only an excellent location but also a plethora of amenities. Talking about the location, the accommodation is situated at close proximity to numerous educational institutions. For instance, if you were to walk to the University of Portsmouth, it would only take you around seven minutes and if you were going to the University of Portsmouth Dental Academy, you get there in around eleven minutes by simply walking. Since the Portsmouth & Southsea Railway Station is practically next-door, you can simply hop on a train and get to almost anywhere in Portsmouth in a matter of minutes!

Now, moving on towards the different amenities offered by Catherine House accommodation. The place exclusively offers studio apartments to the residents and the range of these studios is simply impressive! These studios are complemented by facilities like free Wi-Fi, a sky lounge to relax, a dedicated games room apart from a well-equipped common room where students can socialise. Apart from these, the more technical aspects like full CCTV coverage, secure entry and exit, on-site maintenance, laundry, etc. are also included to make your stay a smooth and pleasant one.

You can choose from entire flats, deluxe studios to comfortable basic studio apartments, depending on the kind of rent you would like to pay and what amenities you will be needing in your living space. Each of these rooms, irrespective of the budget, has been designed keeping the student lifestyle and needs in mind and will complement your stay greatly. To learn more about the place or how to book a room in Catherine House student accommodation, you can simply reach out to us at Best Student Halls. We offer our services absolutely free and help you make a more informed decision about your accommodation.
Property Amenities
Wifi
Bike Storage
CCTV
Common Room
Secure Door Entry
Laundry
On Site Maintenance
All Bills Included
Games room
24 hour support
Sky Lounge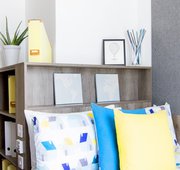 Ensuite 4, 5 & 6 Bed Flat
Portsmouth students love our en suite bedrooms. Space, style and security these rooms are just a few minutes walk from the city centre and the main campuses of the city! With 3/4 doubles, plenty of desk and wardrobe space you will be sharing with 3 other flatmates. This truly is the ultimate university living in Portsmouth.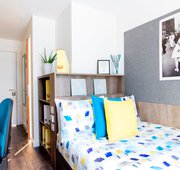 Basic Studio
The best value studio we offer! Ever so slightly smaller than our standard studios, you can still enjoy living in your own space in an ensuite room with a double bed and your own kitchenette!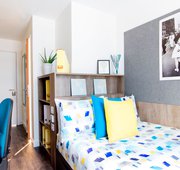 Standard Studio
This great value studio is perfectly proportioned to include your very own contemporary kitchenette and en-suite bathroom. Enjoy living in you're own space in the heart of Portsmouth - you've always got the fantastic common spaces if you fancy socialising!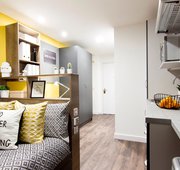 Classic Studio
Typically a little more spacious than our Standard Studios, but with all the same great features, there are lots of different layouts, sizes and floors for you to choose from - all of course with your own kitchenette and en-suite bathroom.
Premium Studio
If you want a great view or a large flat, a Premium Studio is a brilliant choice. Decide between spectacular views over the city or more floor space to stretch your legs in and we'll get your feeling right at home, bang in the centre of Portsmouth city.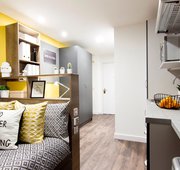 Classic Penthouse Studio
Situated at the very top of the building, these cosy studios have the best views of the city. And with only a small bunch of neighbours to share the floor, these are perfect for peace and quiet (and did we mention the views?!).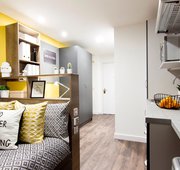 Deluxe Studio
This super-sized studio will not disappoint. There's loads of space for shoes or activities, so whatever your style we've got you sorted. For those of you who love a good view, we have plenty of Deluxe Studios on the upper floors too!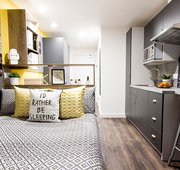 Deluxe Penthouse Studio
Super roomy and with (even more) incredible views, enjoy living the high life in the most exclusive student rooms in Portsmouth city. You've only got a few neighbours, and there are only a few flats going, so be quick and snap one up.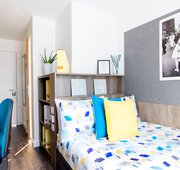 1 Bed Flat
There are just a handful of these outrageously spacious 1 bed flats - ideal if you're in the market for the best crib in Portsmouth (wait till you see the views). They'll sell like hotcakes so be sure to let us know you're interested.