The Mews
Glanville Road, Oxford OX4 2SY
View in a map
SOLD OUT
View in a map
About Halls
Located in the southeast of the city center, The Mews Student Accommodation is an excellent option for students. You can use a bicycle to get to the campus of the University of Oxford and back to the accommodation. Oxford Brookes University is a 6-minute bicycle ride. This will help you save loads of time as well as money. If you decide to walk for any reason, you are most welcome as walking is around 25-30 minutes. Most students prefer using bicycles as they tend to be quicker.

If you stay at The Mews student accommodation, you will be very close to Cowley Road. This property offers two different room options to choose from. You can either opt for the ensuite room or the studio room depending on your budget and priority. If you are looking to socialize with people from all over the world then the ensuite is a better option for you, plus it is cheaper than the studio option.

Every room at The Mews accommodation is designed in a modern manner to suit the day-to-day lives of students. These are called Purpose Built Student Accommodation (PBSA) and host students from all over the world. You can network and learn so much more about different cultures here.

The property is great at hosting social as well as cultural events for resident students. You can foster a feeling of home away from home here. The entire property is equipped with 24/7 CCTV cameras. They also have an on-site security team.

As a resident student at The Mews accommodation, you will have access to the common room, the games room, and the outdoor courtyard. You can spend time with your friends in any of these areas on the weekend. You will be in close proximity to several bars and pubs in the area.

In terms of location, the Oxford Railway station is just a 15-minute walk from the accommodation. There are a few other bus stops as well that are close to the accommodation. This will encourage you to explore the entire city and also visit other cities.
Offers
No Place No Pay
No Visa No Pay
Refer A Friend And Get £450 Cashback
Property Amenities
Wifi
Bike Storage
CCTV
Onsite Security
Common Room
Laundry
En-suite
All Bills Included
Outdoor Courtyard
Games room
On-site Team
24 hour support
Support Staff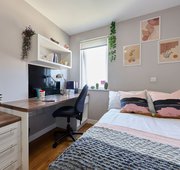 En-suite
Room Size - From 14m² Bed - 3/4 double bed Studying - Large desk and chair Storage - Spacious wardrobe Storage - Drawers Storage - Bookshelves
See 1 More Bookings OptionsShow Less