Carfax Quarter
4-5 Queens Street, Oxford OX1 1EJ
View in a map
SOLD OUT
View in a map
About Halls
One of Oxford's most well-liked and opulent student housing options, Carfax Quarter Oxford offers students a remarkable experience. Many fashionable studio and two-bedroom apartments are available at Carfax Quarter student accommodation; all are fully furnished and have fitted kitchens and en-suite studio rooms. Pupils can rent one of the biggest bedrooms in Oxford in Carfax Quarter. The rent includes all electricity bills and fast Wi-Fi all throughout the building. To combine your social life and academic life in the Oxford student housing alternatives, Carfax Quarter student accommodation boasts some of the most incredible common areas, featuring stylish modern furniture, quartz worktops, stainless steel appliances, plank vinyl flooring, in-unit laundry, premium views, and much more.

The University of Oxford is only one minute away, and Lincoln College is also close to Carfax Quarter, making this a fantastic option for students looking to live in Oxford. This well-liked neighbourhood, which is close to Carfax Quarter student accommodation, has a large number of Oxford eateries and bars. Many retail and entertainment centres are located close to Queen Street, another well-known street near Carfax Quarter Oxford. Additionally, you may grab a bus from High Street Bus Stop, which is only a short walk from the property, or a train from Oxford Central Train Station to travel to surrounding places like High Wycombe. Additionally, 001 Taxis Oxford Taxi Service is available close to the student housing.

Carfax Quarter is not just huge, but it's also ideal for university students. The personnel at Carfax Quarter student accommodation is incredibly polite and helpful, and the prices include wonderful amenities. Thanks to the 24/7 assistance at Carfax Quarter Oxford, you can live a comfortable university life. Because of security services and CCTV, your accommodation is safe and secure. The cool and collected surroundings and vibrant study space aid your studies. Overall, Carfax Quarter in Oxford provides the best living options for striking the perfect balance between study and free time.
Offers
£99 Cleaning And Service Fee Applicable*
Property Amenities
Wifi
Bike Storage
Broadband
CCTV
Common Room
Laundry
En-suite
Pool Table
Kitchen
Freezer
On Site Maintenance
Outdoor area
Library/Study Area
Cinema
All Bills Included
Maintenance
Content Insurance
In-house housekeeping
Free bike hire and storage
Unlimited wifi
Private study room
Cleaning Service Included
On-site Team
24 hour support
Reception Staff
5 Bed Cluster
Room size 17.2m2 – 21.9m2
A room and your own private bathroom in a shared apartment with 5 bedrooms
Double Bed with Under-bed storage
Large desk space with chair
Double wardrobe with shelves and full-length mirror
Private en-suite bathroom with shower
Pin-board
Bookshelf storage
Coat hook
Radiator
What's in the shared kitchen and dining area?
Large shared kitchen
2 x 4 ring induction hobs
Cooking extractor hood
Conventional oven
Microwave
Fridge / freezer
Large dining table and chairs
Sofa seating area
Storage space
Coffee table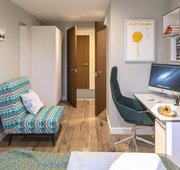 7 Bed Cluster
Room size 16.2m2 – 20.3m2
A room and your own private bathroom in a shared apartment with 7 bedrooms
Double Bed with Under-bed storage
Large desk space with chair
Double wardrobe with shelves and full-length mirror
Private en-suite bathroom with shower
Pin-board
Bookshelf storage
Coat hook
Radiator
What's in the shared kitchen and dining area?
Large shared kitchen
2 x 4 ring induction hobs
Cooking extractor hood
Conventional oven
Microwave
Fridge / freezer
Large dining table and chairs
Sofa seating area
Storage space
Coffee table