Stepney Yard
Stepney Yard, Stepney Bank, Newcastle NE2 1TZ
View in a map
SOLD OUT
View in a map
About Halls
Stepney Yard Student Accommodation, a charming yet cosy student accommodation located in a wonderful city of Newcastle draws students from all around the world. This place has a unique quality. Whether it be the welcoming environment or the dynamic student life. It is a centre for music, art and history, and the nightlife is constantly active. Newcastle stands out, though, for its attractive and hospitable atmosphere, which quickly makes visitors feel at home.
Stepney Yard student accommodation is among the most hip spots for students to stay. It's not your typical
Newcastle Student Accommodation
, students adore its upscale vibes. Imagine residing in a neighbourhood that hosts 266 students each academic year. We at Stepney Yard Student Accommodation are like a big family with lots of opportunities to meet and mingle with new people. Due to its extremely accessible location Stepney Yard Student Location is situated amidst Newcastle's Cultural District, All the best things that the city has to offer are located right next to you. In addition, the city's two university campuses are just a short drive from this location. No more hurriedly running to class!
Let's now discuss the treats Stepney Yard student accommodation Newcastle has to offer. In the beginning, there are fantastic social areas where you can hang out with friends, play games, or just unwind. There is also a movie theatre room if that's more your style. So you can plan movie nights with your friends.
And don't worry, Stepney Yard's speedy 200Mbps wifi will take care of all of you tech-savvy people out there. You can easily connect, stream, and study.
Let's now discuss the area where you will be residing. Beautifully built mezzanine studios and ensuite apartments are available at Stepney Yard. You'll feel at home because of the excellent fusion of comfortable and modern vibes in them. It's a place to create, not just a place to sleep.
Newcastle, then, has something for everyone, whether you're an art lover, history buff, music lover, or party animal. You'll have the pleasure of your life as a student with Stepney Yard as your home base. Embrace the excitement of the city, acquaint yourself with its lively culture, and make friends for life. Come and make great student memories in Newcastle, which welcomes you with open arms!
Property Amenities
Wifi
Bike Storage
Car Parking
Broadband
CCTV
Onsite Security
Common Room
Secure Door Entry
Laundry
En-suite
Kitchen
Satellite/Cable TV
Vacuum Cleaner
Iron/Ironing Board
On Site Maintenance
Heating
Outdoor area
Computer Lab
Library/Study Area
Concierge
Cinema
All Bills Included
Bus Links
Train Links
Airport Links
Social Calendar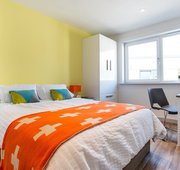 Classic Ensuite
Classic Ensuite Apartments allow you to live with your friends or enjoying your own private bedroom & ensuite bathroom. Classic Ensuite Apartments accommodate between 4-7 people with access to a shared terrace, shared kitchen and living area; giving you the perfect balance of space to study hard, socialise & relax.
No Contracts Available At Present.
Premium Ensuite
Premium Ensuite Apartments are 10.7 square metres in size and include an ensuite bathroom and Juliet style balcony. Each Apartment accommodates 4 to 7 people and includes a shared kitchen and living area.
No Contracts Available At Present.
Deluxe Ensuite
Deluxe Ensuite Apartments are 10.7 square meters in size and include an ensuite-bathroom and private balcony. Each apartment accommodates 4 to 7 people and includes a shared kitchen and living area.
No Contracts Available At Present.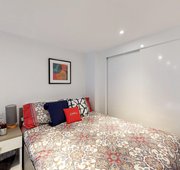 Mezzanine Studio
Mezzanine Studios are a two storied studio room including all of your home comforts including a compact double bed with under-bed storage, closet, desk & chair, ensuite bathroom with shower, sink and toilet plus kitchenette with storage, hob, fridge/freezer and combination microwave oven.
No Contracts Available At Present.