Market House
Market Street, Newcastle NE1 6AN
View in a map
SOLD OUT
View in a map
About Halls
Market House student accommodation sits in the very heart of the city of Newcastle. The excellent location of the place makes it a great choice for students studying in many of the major universities of Newcastle. In fact, the Northumbria University Newcastle city campus is situated a mere seven-minute walk away while the Newcastle University is also situated at a short walk of 11 minutes. If you are studying at the Newcastle University medical school you can get there by walking for only 14 minutes and the train station also sits at a six-minute walk. Newcastle Central train station is situated at a 10-minute walk and the international airport is a 13-minute drive or a 30-minute bus journey away. This means whether it is good getting to university or to the airport you can do it with it when living at Market House accommodation.

Market House student accommodation sits in the bustling heart of the city so that shops, cinemas, bars, clubs and theatres are all situated at comfortable walking distance. Whether you are looking for last-minute grocery shopping or a fun place to hang out with your friends you will not have to think much or even travel long to get to a place of your choice. The accommodation includes ensuite rooms and studio apartments of waiting sizes and offering a different set of facilities. No matter which one you choose you are guaranteed a comfortable space to live in that features spacious beds, private bathrooms, access to fully equipped kitchens and more. When living here you can follow your own routine of eating, sleeping and getting ready at times you find more convenient.

The many facilities offered by Market House student halls include high-speed internet in the form of Wi-Fi connectivity throughout the property, an in-house laundry where the students can wash their clothes without having to step out of the premises, full CCTV coverage to ensure physical security and psychological safety of the students and an outdoor area where the students can sit and enjoy the beautiful cityscape outside. On-site maintenance and content insurance is also offered at the property making student life all the easier. A packed social calendar also ensures that the students are entertained and offered plenty of opportunities to socialise within the accommodation itself.
Offers
Book With Confidence- Free Cancellations Until 31st July! T&C's Apply
En Suite Offers: Get Upto £200 UniKitOut Voucher Or £100 Laundry Card. T&C's Apply*
Property Amenities
Wifi
CCTV
Laundry
En-suite
On Site Maintenance
Outdoor area
All Bills Included
Bus Links
Train Links
Airport Links
Content Insurance
Social Calendar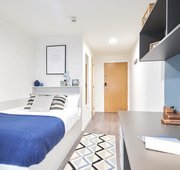 City En Suite
Located on the lower floors of the building, these rooms come with large windows which let in plenty of natural light to brighten up your room, with a space to study and lots of storage. Room sizes from 14sqm.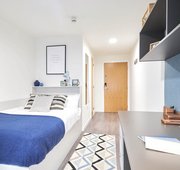 City En Suite Plus
The same fab features as our City En Suite, but with extra floor space and some have two windows!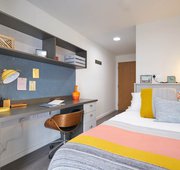 Bronze En Suite
Small double bed, plenty of workspace, loads of storage, private en-suite shower and shared kitchen/living areas.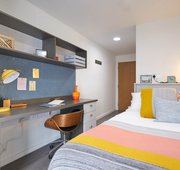 Silver En Suite
Same features as the bronze, but with more space.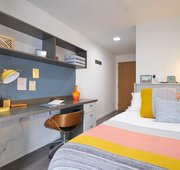 Gold En Suite
The biggest room includes all of the same features.
Gold Plus En Suite
Facing towards the quayside, these rooms are similar to our Silver En Suite but with extra room! Average room size 15-16 sqm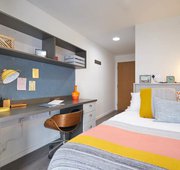 Platinum En Suite
Our most spacious en suite. You get all the same great features as the Bronze and Silver En Suite but with more storage and space to move around in. Average room size 17-18.8 sqm.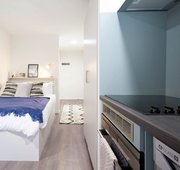 Bronze Studio
Self-contained studio. En-suite shower room, small double bed, bags of storage, fitted kitchen and study area. Dual occupancy for no extra charge.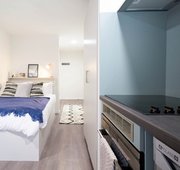 Silver Studio
Bigger studio. Facilities feature an en-suite shower room, small double bed, storage, fitted kitchen and study area.
Gold Plus Studio
Same features as the Gold Studio, but with even more room.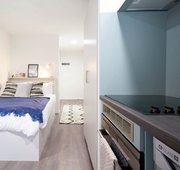 Gold Studio
Bigger than Silver but with the same quality features and fittings. Ideal for a couple.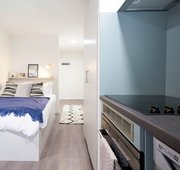 Platinum Studio
En-suite shower room, small double bed, oodles of storage, fitted kitchen and study area but now with much more space.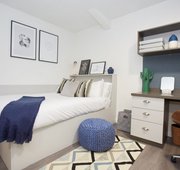 Platinum Plus Studio
Go Platinum Plus and enjoy a huge 26-30sqm worth of space. More than enough room for couples to share and the price doesn't change if you do come as a pair.