Rusholme Place
Rusholme Place, Manchester M14 5TE
View in a map
SOLD OUT
View in a map
About Halls
Rusholme Place student accommodation is situated in the bustling heart of the city of Manchester. It is an excellent place for the students studying at Manchester Metropolitan University and the University of Manchester. We say this because the students can simply walk to their places of education right from the accommodation without having to waste any time or money on the commute. The central location of Rusholme Place accommodation means that whether it is groceries that you are after or a fun place to hang out with your friends, everything is available at a stone's throw away.

Rusholme Place student halls offer many different options in rooms. You can choose anywhere between a Bronze room and a Studio apartment, based on your personal budget and requirements. You can choose to live on your own or share your space with your friends. All the rooms feature beautiful furnishings and practical design which includes large pads designated study areas complete with desks and chairs and access to clean bathrooms. The rooms also have ample storage and ensure that the students can keep all their belongings organised and safe.

The many features that are to be found at Rusholme Place student accommodation include high-speed internet in the form of Wi-Fi connections that offer seamless coverage throughout the property. A designated bike storage area has been provided where the students can store away their bikes when they are not in use. The property also offers excellent train and bus links to not only the different parts of Manchester but to the rest of the country as well. In-house laundry has also been provided for the convenience of the students. Full security features can also be found at the premises that have been installed to ensure the physical safety and psychological security of the students.
Property Amenities
Wifi
Bike Storage
Onsite Security
Laundry
All Bills Included
Content Insurance
Kitchen cleans
24 hour support
Bronze Room
Your Bronze Room comes complete with en-suite bathroom, a 3/4-sized bed and a sizeable wardrobe for your uni hoodies and fancy-dress costumes. We've pulled out all the stops to ensure you feel at-home in Manchester; so you can get organised at your new desk or go into the large kitchen/living room and chat with three or four new flatmates over dinner or pre-drinks. Now it's time to get excited!
Silver Room
If you'd rather get to know one or two new flatmates than three or four, move into one of our Silver Rooms when you come to Manchester. When you aren't relaxing on your 3/4 bed or putting in some solid studying at your fitted desk, you'll have a clean, comfortable shared kitchen and living room to kick back in with your new friends. Book your place today and start daydreaming!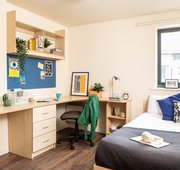 Gold Room
Expecting an extra-cushty set-up at your uni home? Our large Gold Rooms come with plenty of floor space, a sizeable desk and roomy wardrobe so you can bring clothes for every occasion - including your morph suit for the next club crawl. We've even popped a sofa in your bedroom, so whether you want some Netflix and me-time or you're inviting the flatmates in to chill, it's great to have a few extra seats available. Start planning your life in Manchester today.
No Contracts Available At Present.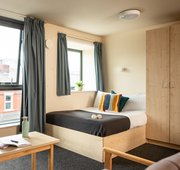 Studio Room
Trust us, you won't meet many students with their own Studio Room in Manchester and they're going to love coming to visit yours. With a good-sized kitchen and living areas, you can invite your new best friends round for dinner, host movie night or get some serious studying in without being disturbed. Also, if you're partial to having your own space as and when, this might be the room for you. You'll still have endless opportunities to make friends at our fun Village Life events, too.
No Contracts Available At Present.
Gold Studio Room
Want the best of the best while you're at uni? Want to live in the heart of the action? Take a look at our Gold Studio Rooms and look forward to living in a social community with the added bonus of living solo in every other way. Nobody else's pots in the sink, no squabbling over what's on Netflix - until you host movie night of course. Enjoy 30m of space, your own kitchenette and living space and a handy breakfast bar alongside your double bed. Book your room today!
No Contracts Available At Present.