The Electra
Caledonia Street, Liverpool L7 7ED
View in a map
TBC
View in a map
About Halls
If a luxurious student accommodation in the heart of Liverpool's student district is what you are after then you have landed at the right place. The Electra student accommodation offers everything from plush interiors, well thought out design to unparalleled comfort. You get access to some of the major spacers for socializing in the city like some of the most popular restaurants, clubs, pubs, theatres and music venues. You can live a life of luxury both inside and outside of The Electra accommodation as we get access to the best that Liverpool has to offer.
When it comes to the actual accommodation provided by The Electra student halls, you can contend that you are being offered second to none. The rooms are large and well-lit with cosy beds, designated study areas complete with desks, chairs and storage where you can retire to when you need to finish assignments or study for your exams. The rooms also have proper kitchenettes where you can prepare fresh and healthy meals from scratch and enjoy the feeling of being at home away from home. The bathrooms are excellently ventilated Andrew me e a loving you enough space to get ready in the mornings prepare yourself before you go to bed.
The many facilities offered by
The Electra student accommodation
include high-speed internet in the form of Wi-Fi connectivity that extends throughout the property. No matter where you are, you can enjoy unlimited Internet to stay connected with your friends and family E and to stay on top of your academics. The place also has truly luxurious lounges where you can unwind and relax after a long day of studying and for part-time work. An in-house laundry has also been provided to offer a space for the students to wash their clothes inside the property as and when they get the time. Library and study area has also been provided for the students to sit in Silence and prepare their assignments for commerce study for their exams or just to enjoy peace and quiet.
Offers
COVID-19 Cancellation Policy
Property Amenities
Wifi
Bike Storage
Broadband
CCTV
Common Room
Secure Door Entry
Laundry
En-suite
Pool Table
Kitchen
Heating
Library/Study Area
All Bills Included
Bus Links
Train Links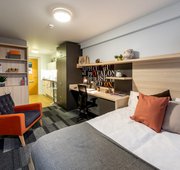 Silver Studio
The silver studio offers plenty of study and living space, as well as ample storage within the stylish fitted furniture.
20.55m sq
Fitted kitchen (with appliances)
En-suite
Large desk and chair
Wireless internet
Smart TV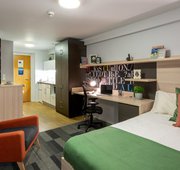 Gold Studio
Gold studios include stylish fitted furniture, spacious kitchen and modern bath or shower room.
25.3m sq
Fitted kitchen (with appliances)
En-suite
Large desk and chair
Wireless internet
Smart TV
Platinum Studio
The largest studios at The Electra is spacious student living at it's best.
32.3m sq
Fitted kitchen (with appliances)
En-suite
Large desk and chair
Wireless internet
Smart TV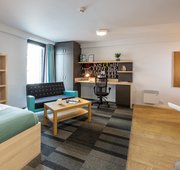 Platinum Dda
The largest studios at The Electra is spacious student living at it's best. The en-suite and kitchen area in this studio have been adapted to meet DDA requirements.
AVERAGE ROOM SIZE: 32.3m2