Innovo House
60 Devon Street, Liverpool L3 8AJ
View in a map
SOLD OUT
View in a map
About Halls
Innovo House ought to be your first pick if you're seeking top-notch dorm housing in Liverpool at a reasonable price. The Liverpool John Moores University is a 5-minute walk away, while the University of Liverpool is a mile away from the Innovo House student accommodation, which provides studios with en-suite bathrooms.

Modern studios and en-suite rooms are available at the Innovo House student accommodation in a range of styles and prices. Each room contains a desk, a double bed, and a private bathroom, making Innovo House student accommodation the perfect location to study and unwind.

Every studio at Innovo House Liverpool has a TV, and the public bathrooms each have a TV with a TV licence. When not studying, you can unwind in a number of locations throughout Innovo House student accommodation. In the game room at Innovo House, you can compete with your pals, or you can just hang out in the common area. To further ensure your safety, there is 24-hour security and on-site administration.

The Innovo House student accommodation, which is in the centre of Liverpool, is surrounded by a variety of bars, cafes, restaurants, and stores. At Trattoria, order Italian food, or stop by Fat Hippo for a cheeseburger. For weekend gatherings, the Coburg and Cross Keys are excellent. You can visit incredible locations nearby on your spare days, such as Quirk Quarter, the John Culshaw Bird Mural, and Mersey Tunnel Tours, which are nearby Innovo House student accommodation.

You can board a bus to your university at the Gildart Street bus stop after a 4-minute walk from Innovo House Liverpool. At Liverpool Lime Street train station, you can catch a train to tour nearby cities. Stop waiting and reserve this Innovo House before it sells out!
Property Amenities
Wifi
Bike Storage
Broadband
CCTV
Onsite Security
Common Room
Secure Door Entry
Laundry
En-suite
Wheelchair Accessible
Pool Table
On Site Maintenance
Outdoor area
All Bills Included
Bus Links
Maintenance
Content Insurance
Unlimited wifi
Games room
On-site Team
Dining table
24 hour support
Communal Kitchen
24 hour concierge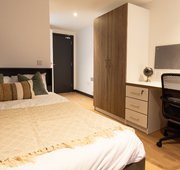 Classic En-suite
What's in the room? Room size- 13.5m2 ¾ size double bed with under bed storage En-suite bathroom with shower and WC Full-length mirror Pinboard Study desk with drawer space and chair Wardrobe What's in the shared kitchen? 4-ring hob with extractor Electric oven Full-size fridge freezer Lounge / sofa area Shared dining table and chairs
Premium En-suite
What's in the room? Room sizes may vary from 13.9m² to 14m² ¾ size double bed with under bed storage En-suite bathroom with shower and WC Full-length mirror Pinboard Study desk with drawer space and chair Wardrobe What's in the shared kitchen? 4-ring hob with extractor Electric oven Full-size fridge freezer Lounge / sofa area Shared dining table and chairs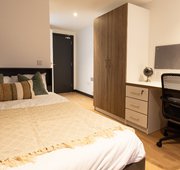 Deluxe En-suite
What's in the room? Room size- 15.3m2 ¾ size double bed with under bed storage En-suite bathroom with shower and WC Full-length mirror Pinboard Study desk with drawer space and chair Wardrobe What's in the shared kitchen? 4-ring hob with extractor Electric oven Full-size fridge freezer Lounge / sofa area Shared dining table and chairs
Classic Studio
What's in the room? Room sizes may vary from 23m² to 23.4m² ¾ size double bed with under bed storage 2-ring hob with extractor Breakfast bar En-suite bathroom with shower and WC Full-length mirror Integrated fridge with freezer compartment Microwave oven Pinboard Stool Study desk with drawer space and chair Wardrobe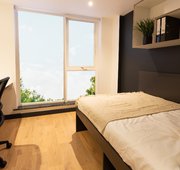 Premium Studio
What's in the room? Room sizes may vary from 25.5m² to 25.6m² ¾ size double bed with under bed storage 2-ring hob with extractor Breakfast bar En-suite bathroom with shower and WC Full-length mirror Integrated fridge with freezer compartment Microwave oven Pinboard Stool Study desk with drawer space and chair Wardrobe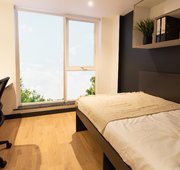 Deluxe Studio
What's in the room? Room size- 28.8m2 ¾ size double bed with under bed storage 2-ring hob with extractor Breakfast bar En-suite bathroom with shower and WC Full-length mirror Integrated fridge with freezer compartment Microwave oven Pinboard Stool Study desk with drawer space and chair Wardrobe