City Point- Liverpool
City Point, Great Homer Street, Liverpool L5 3LD
View in a map
SOLD OUT
View in a map
About Halls
One of the most well-liked student residences in Liverpool city centre, City Point student accommodation offers students a truly extraordinary experience. There are several chic studio and two-bedroom apartments available at City Point accommodation, all of which are fully furnished and have fitted kitchens and en-suite bathrooms. The Liverpool International College and the University of Liverpool are located close to City Point Liverpool.

There are many benefits to choosing City Point student accommodation, which comes fully equipped with beds, closets, a smart TV, free Wi-Fi, and a desk, in addition to amazing communal kitchen facilities. The on-site gym, laundry facility, and concierge may be able to persuade you to choose City Point accommodation. All utility costs and fast Wi-Fi through the building are covered by the rent at City Point Liverpool. The staff at City Point accommodation is incredibly accommodating and helpful, and the prices include wonderful amenities. You can lead a pleasant student life thanks to the 24/7 assistance. Your stay is safe and secure thanks to security services and CCTV at City Point Liverpool.

A well-known neighbourhood close to City Point in Liverpool has the Liner Hotel and The Richmond Apart-Hotel and is home to numerous restaurants and bars. The retail and entertainment districts of many cities are close to this and another well-known square called Oxford Street. Additionally, City Point student accommodation is only a short distance from the Mount Pleasant Bus Stop, and it takes only four minutes to reach Mersey Cabs Ltd, also known as the CamCab.

City Point Liverpool provides cosy living quarters in addition to a variety of activities nearby. Just go to any local bar, cafe, or restaurant if you want to unwind after a long day of classes. City Point student accommodation is close to Sainsbury's superstore, McDonald's, Rowlands Pharmacy, Greggs, and many other stores so that grocery shopping becomes easier for you.

If you're an international student, Liverpool is ideal. The city centre is full of things to see and do and is close to City Point accommodation, making it an excellent spot to hang out. Indulge your artistic side at the Everyman Theatre, and soak up some culture at the Victoria Gallery and Museum and other museums and art galleries dotted around the city. Let loose at popular nightclubs like Berry and Rye and Ma Egerton's Stage Door. Liverpool is known for offering some of the finest nightlife, after all.
Offers
£250 Cashback Available.
Property Amenities
Wifi
Bike Storage
Car Parking
Common Room
Laundry
En-suite
Gym
Kitchen
Freezer
Heating
All Bills Included
Large beds
Walk to uni
Dining table
Communal Kitchen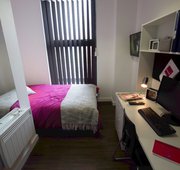 Classic Ensuite
The Classic Ensuite is a well-organized apartment and comes with a private bedroom that includes a study desk and chair, a full-size bed and a dresser, a private bathroom, a living area, and a full-sized kitchen with a microwave, dishwasher, and a full-sized refrigerator with ice maker and full-sized washer and dryer. Prices may vary as per floor level and double occupancy!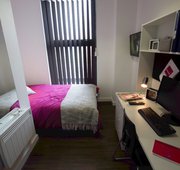 Classic Ensuite Plus
The Classic Ensuite Plus is a well-built apartment with good living and storage space. It comprises a private bedroom that also has the option for dual occupancy, bathrooms, twin-sized beds, a study desk and chair, a dresser, and a shared living, dining, and kitchen area. The apartment is beautifully designed and constructed with all modern amenities that are necessary for the comfort of the students while staying away from home.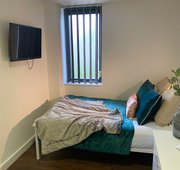 Premium Ensuite
The Premium Ensuite makes a good choice for those who enjoy shared living. These apartments with double beds and bathrooms and kitchens. It is a well-built unit, designed for comfortable living at the property. Prices may vary as per floor level and double occupancy!
No Contracts Available At Present.