The Oval
1 The Oval, Leicester LE1 7AF
View in a map
SOLD OUT
View in a map
About Halls
The Oval student Accommodation in Leicester offers the height of luxury and convenience in dorm living. Enter a world of refinement where comfort and modernity coexist, all while taking advantage of the ease of facilities like power, running water, and internet access that are provided as standard. With its prime location that is situated just at an arm's length away from
De Montfort University
and
University of Leicester
.
Enjoy the peace and comfort of your own en-suite rooms, where every feature has been painstakingly planned to provide an accommodation where there is an abundance of peace and serenity. Discover a wealth of storage solutions to keep your home tidy and clutter-free as you sink into the soft 3/4 beds or double beds, which offer plenty of room for leisure.
Experience the luxury of the elegantly decorated studios, where quality and comfort is of the first importance. Every component, from chic furniture to modern fixtures, has been meticulously chosen to improve your living space. Take pride in your gorgeous home as you host visitors or just relax there.
The modern tiled en-suite shower rooms are proof that every detail of your comfort was taken into consideration. Enjoy the pleasure of cool showers in a setting of elegant aesthetics. Realising there is comfort right beyond your door, step out onto the shiny tiles.
The state-of-the-art private kitchens make it simple to prepare your favourite dishes. These kitchens are a sanctuary for food connoisseurs, including top-of-the-line appliances and lots of countertop space. Everything you require is nearby, whether you're experimenting with new dishes or simply enjoying a quick snack.
Ignore the nuisance of high utility costs and erratic internet connections. Water, power, and lightning-fast Wi-Fi are all provided in Oval Living's Premium Studios, letting you to concentrate on what's important: your education, your relationships, and your personal development.
In conclusion, The Oval Student Accommodation provides the height of elegance and comfort. The University of Leicester and De Montfort University both offer unmatched campus accessibility, so you can forget about worrying about getting to class on time. Discover
Leicester
's flourishing selection of eateries, varied cultural attractions, and exciting nightlife. Making the most of your student budget while appreciating the area's strong sporting legacy is possible at The Oval Student Accommodation. Join us at The Oval, your new home away from home where convenience, comfort, and limitless opportunity harmoniously coexist.
Property Amenities
Wifi
Bike Storage
CCTV
Common Room
Secure Door Entry
Laundry
Kitchen
Freezer
Satellite/Cable TV
Outdoor area
All Bills Included
Large beds
On-site Team
24 hour support
Communal Kitchen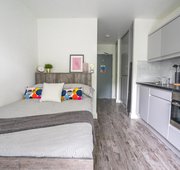 Standard Studio
WiFi Fridge Microwave/Oven ¾ Bed Desk & Chair En Suite Lockable Bedroom TV in room
Premium Studio
WiFi Fridge Microwave/Oven ¾ Bed Desk & Chair En Suite Lockable Bedroom TV in room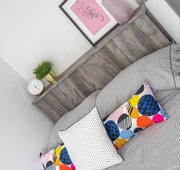 Deluxe Studio
WiFi Fridge Microwave/Oven ¾ Bed Desk & Chair En Suite Lockable Bedroom TV in room