Bridle Works
366 Cathedral Street, Glasgow G1 2DA
View in a map
View in a map
About Halls
Bridle Works student accommodation is one of the greatest in Glasgow. Bridle Works student accommodation in Glasgow is a place for students who want to strike the right balance between their education and social lives. This property is within walking distance of several institutions as well as other notable spots.

Private study rooms in Bridle Works are also provided on the site to give students the best possible environment for their studies. Students may complete university-related chores in peace, study for exams without interruption, and much more in these places. There are also seminar rooms on the site where talks may be held.

There is a full schedule of fun and games for students to enjoy during their free time in Bridle Works. When you're bored of studying, you may relax in the game area. Furthermore, there is a cinema on the premises where guests may enjoy amazing entertainment. They may also watch their favourite shows on TV in their rooms or studios.

In addition to all of this, the property hosts communal activities, which are excellent opportunities for students to have a good time. There is also a lounge space and a rooftop patio where students may unwind. There is also a gym on-site to keep you in shape. At Bridle Works student accommodation Glasgow, you also get a bicycle storage room, so you may store your bike and ride anytime you want.

The Bridle Works student accomodation's fully-equipped kitchen allows students to create their favourite dishes. They may use the microwave for cooking a range of cuisines as well as to heat eatables. There is also a fridge/freezer here to keep food cool, make ice cream to share with guests, and much more.

Bridle Works in Glasgow has two types of accommodations: ensuite rooms and studios. Furthermore, ensuite rooms are divided into two categories, while studios are divided into three types.

The 5-Bedroom Standard Ensuite Apartment and the 5-Bedroom Premium Ensuite Apartment are the two types of ensuite rooms accessible at the Bridle Works student accommodation Glasgow. The three studio kinds available at this facility are Standard Studio, Premium Studio, and Luxe Studio.

There is complete protection for yourself and your possessions in your accommodation as well as in the surrounding regions. At the Bridle Works student accommodation in Glasgow, secure door access is provided. Furthermore, CCTV cameras put here allow everything to be monitored to discover anything suspicious.
Offers
"1 Week Rent As Deposit"
£250 Cash Card for Spring Bookings
Refer A Friend And Get £100 Cash Card
Book In Group And Get A Move In Bundle Worth £500!
Exclusive £500 Booking Offer!! T&Cs Apply*.
Property Amenities
Wifi
Broadband
CCTV
Onsite Security
Common Room
Secure Door Entry
Gym
Satellite/Cable TV
On Site Maintenance
Cinema
All Bills Included
Social Calendar
Outdoor Courtyard
Free bike hire and storage
Garden rooftop terrace
Private study room
Games room
Karaoke Room
On-site Team
Social Events
24 hour support
Study Zone
Kitchen and private dining room
Standard Studio
16.8-17.4m² | Double bed, desk chair, bedside table or shelving, wardrobe and underbed storage En-suite with a smart TV, fully fitted kitchen with an integrated washer-dryer and dishwasher and breakfast bar stool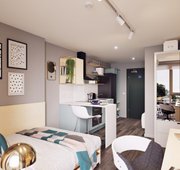 Premium Studio
18.6-21m² | Double bed, desk chair, bedside table or shelving, wardrobe and underbed storage En-suite with a smart TV, fully fitted kitchen with an integrated washer-dryer and dishwasher and breakfast bar stool
See 1 More Bookings OptionsShow Less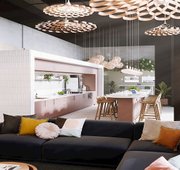 Luxe Studio
23.7-24m² | Double or king sized bed, desk chair, bedside table or shelving, wardrobe and underbed storage En-suite with a smart TV, fully fitted kitchen with an integrated washer-dryer and dishwasher and dining table with chairs or breakfast bar stool