Huxley Studios
Huxley Studios, 44 Stanley Place, Edinburgh EH7 5TB
View in a map
View in a map
About Halls
A boutique property in the heart of Edinburgh, Huxley Studios not only features stylish studio apartments, but also unique interiors. Named after Aldous Leonard Huxley, an English writer and philosophers, Huxley Studios has been designed to inspire. With curiosities and wonders at every corner, this property provides an exciting new offering for any Edinburgh based students.

Primely located close to all universities, on-site bike storage and hire is available, promoting sustainable travel. Students have the option to walk or ride to university with the University of Edinburgh's main campus being just a 14 minutes bike ride away, while its Holyrood Campus is less than a 20-minute walk. The Queen Margaret Universities Leith Campus is just a 10 minutes bike ride away from Huxley studios, and the Edinburgh College of Art can be reached by bus in under 25 minutes.

In addition to its stylish surroundings, there is also a wealth of amenities. The breakfast bar offers free weekday grab-and-go breakfast (available Monday – Friday) along with 24/7 free coffee for residents to take advantage of. A private and al fresco dining area, retro lounge, green room and library corner all offer space filled with chic furniture, to either relax, study or socialise. Huxley Studio features its very own gym, offering regular fitness classes and access to personal training sessions, and as well as its own karaoke room, perfect when it is time to let your hair down and unwind. With a range of amenities available you can feel inspired, energised, and always connected to friends.

While staying at Huxley Studios student accommodation, residents not only benefit from the amenities available in the property but also those of the local area. So, whether you want to enjoy the serenity of your flat or dive headfirst into the vibrant Edinburgh community you have the choice with an abundance of pubs, clubs, restaurants, shops and other recreational activities and events located right on the properties doorstep.
Offers
1 Week Rent As Reservation Amount
£150 Summer Booking Offer!
Property Amenities
Wifi
Bike Storage
CCTV
Onsite Security
Common Room
Secure Door Entry
Laundry
En-suite
Gym
Kitchen
Freezer
On Site Maintenance
Outdoor area
Library/Study Area
Cinema
All Bills Included
Maintenance
Content Insurance
Kitchen cleans
In-house housekeeping
Outdoor Courtyard
Free bike hire and storage
Unlimited wifi
Large beds
Karaoke Room
Dining table
Communal Kitchen
Cafe
24 hour concierge
Kitchen and private dining room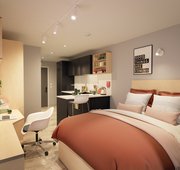 Standard Studio
19.6 - 20.4m² | Double bed, desk chair, wardrobe, bedside table and underbed storage En-suite with a Smart TV, desk area, fully fitted kitchen with an integrated washer-dryer, dishwasher and breakfast bar area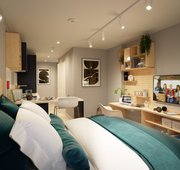 Premium Studio
24.2m² | Double bed, desk chair, wardrobe, bedside table and underbed storage En-suite with a Smart TV, desk area, fully fitted kitchen with an integrated washer-dryer, dishwasher and breakfast bar area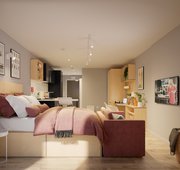 Executive Studio
29.9 - 36.6 m² | Double or king sized bed, desk chair, wardrobe, bedside table and underbed storage En-suite with a Smart TV, desk area, fully fitted kitchen with an integrated washer-dryer, dishwasher, breakfast bar area/ dining table and two- seater sofa