Sky Blue Point
West Street, Coventry CV1 5EE
View in a map
View in a map
About Halls
Coventry's Sky Blue Point student accommodation offers a variety of en-suites and is the perfect place for students to stay. Sky Blue Point accommodation is ideally situated since it is only a 5-minute walk from
City College Coventry
and a 12-minute walk from
Coventry University
.
Each en-suite at Sky Blue Point Coventry includes a comfortable bed with under-bed storage, a big desk and chair, a roomy wardrobe, a side table, good high-speed WiFi, a vacuum, a mop and bucket, an ironing board, a private bathroom, and a shared kitchen with incredible appliances like a microwave, a toaster, a kettle, and a stove. Some of the most excellent shared facilities are available to you here at Sky Blue Point student accommodation, including a common area with a big TV and seats, a games area, an outside garden area, a laundry room featuring washing and drying equipment, bicycle parking with lots of space, and on-site parking (extra charge). Security, carers, and CCTV cameras are all available around the clock. The rent at Sky Blue Point accommodation will cover all your utility costs, including wifi, electricity, water, and heating.
Students who enjoy socialising will enjoy the residence's classic and premium en suite rooms and the many common areas at Sky Blue Point Coventry. Use the Sky Blue Point student accommodation's high-speed internet to complete all of your assignments. Enjoy a game of pool, ping pong, or foosball with your neighbours in the common area after class to get to know them better. When travelling in the city, you can take your bicycles and store them in the accessible bike storage facility. Relax with your friends in the outdoor social area while the weather is nice at Sky Blue Point student accommodation.
There are numerous stores, well-known bars, and eateries nearby. For enjoyable evenings, visit Quids Inn Pub and Gosford Arms. Alternatively, you could schedule Sunday breakfasts at AGG's World and Hadramud Mindi Restaurant. When you have time, you can also visit well-known tourist destinations like Escape Live Coventry, Herbert Art Gallery & Museum, and Coventry Transport Museum.
Your commute will be hassle-free thanks to Coventry's strong public transportation connectivity. Within a 3-to 4-minute stroll of the property, you can get to a lot of bus stops, including All Saints Square and Callice Court, and Bramble St. Coventry [COV] train station is accessible by foot in 24 minutes. The great public transportation system makes getting around the city much simpler. While walking to
Coventry
Railway Station takes less than 20 minutes, the closest bus station is only about a 4-minute walk away. Sky Blue Point Coventry is close to Birmingham Airport, just a 21-minute drive away, making it convenient for international students unfamiliar with the area.
Offers
£200 Cashback Available. T&C's Apply*
No Visa, No Pay/No Place, No Pay
Limited Offer: 3 Term Warwick Uni Bus Pass Worth £125 Per Term*
Property Amenities
Wifi
Bike Storage
Car Parking
CCTV
Onsite Security
Common Room
Laundry
Gym
Library/Study Area
Cinema
All Bills Included
Games room
On-site Team
24 hour support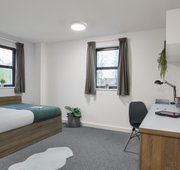 Premium En-suite
Room Size - From 19m² Bed - Double bed Studying - Large desk and chair Storage - Bedside table Storage - Underbed storage Storage - Spacious wardrobe