City Point - Coventry
2 Gas Street, Coventry CV1 4FY
View in a map
TBC
View in a map
About Halls
City Point is a private property that is located in the centre of Belgrade Plaza, which lies in the City Centre of Coventry. It will only take you 20 minutes to reach the University of Warwick and Coventry University here. You'll be residing in the heart of the city, having easy access to all the other parts of the city. It's an excellent space that is a blend of cosy and spacious together. Students at City Point are provided with several room options to choose from, depending upon their tastes and requirements.

The rooms at City Point are ensuite, so you will always have your privacy. The property is beautifully furnished with contemporary furniture that is sprinkled with bright colours that help instantly brighten the mood. The spacious communal area is where you can either watch TV or spend time with friends. It's also a great chance to get to know your neighbours, who come here from different parts of the globe. What's more? The City Point Coventry property comes with an on-site gym, ensuring that you do not sway away from your fitness goals.

The safety of students is the number one priority here, which is why the entire City Point building is under constant CCTV surveillance. The place is equipped with wifi and broadband services so you can enjoy a hassle-free studying experience. Sanitation is a top priority too, ensuring the property is regularly sanitised, to provide students with a clean and safe environment. If you are interested in booking a room at City Point Coventry, get in touch with us at Best Student Halls. We will be happy to answer any questions and also help you find your ideal student accommodation!
Property Amenities
Wifi
Bike Storage
CCTV
Onsite Security
Gym
All Bills Included
Content Insurance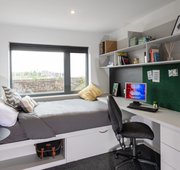 Standard En-suite
The en-suite room offers plenty of space to live and study whilst sharing a living area and kitchen.
Room size : 13m2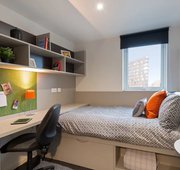 Classic Ensuite
Situated on the lower floors, the en-suite room offers plenty of space to live and study whilst sharing a living area and kitchen.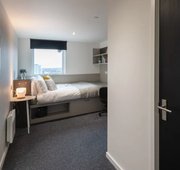 Premium En-suite
The large en-suite room offers plenty of storage with a large bed and study area.
Room size : 16m2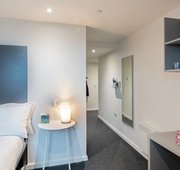 Deluxe En-suite
The large en-suite room offers plenty of storage with a large bed, study area and an en-suite.
Room size : 18.5m2
Deluxe En-suite With Bath
The large en-suite room offers plenty of storage with a large bed, study area and an en-suite.
Room size : 18.5m2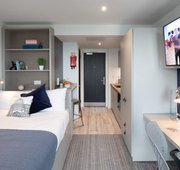 Silver Studio
The stylish fitted furniture, large bed and modern kitchen help you make the most of your space and with big beds, ensuite shower rooms, study desk and chair.
Room Size : 18.5m2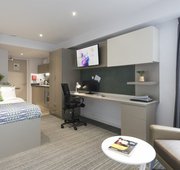 Gold Studio
Gold studios include stylish fitted furniture, spacious kitchen and modern shower room.
Room Size : 21.5m2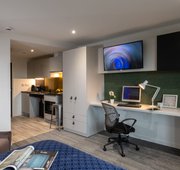 Platinum Studio
Platinum studios include stylish fitted furniture, spacious kitchen and modern bathroom.
Room size : 21.5m2