Lumis Student Living Cardiff
Capital Quarter, Tyndall Street, Cardiff CF10 4BZ
View in a map
SOLD OUT
View in a map
About Halls
Built-in the heart of Cardiff, Lumis Student Living is a recent addition to private student accommodations in the city. When at Lumis Student Living Cardiff, you're only a stone's throw away from the best socialising spaces in town. The property possesses impressive interiors that are a combination of fun and quirky. The bright colours used in the furnishings add a sprightly touch to it. You'll be given an option to choose from a range of different room options.

The Lumis Student Living Cardiff property is designed to provide you with optimum comfort. All the rooms in this building come with a study area that is completed with a desk and chair. A large and comfortable bed is given to let you sleep peacefully every night. Wardrobes here are spacious enough to fit all your stuff, leaving you with room for more. The open-style kitchen will make your cooking experience even better. You can turn on the TV while whipping up your favourite meal too. The modern ensuite bathrooms come with a sink and a shower too. Additionally, there is also a gym with the latest technology available inside the premises of Lumis Student Living Cardiff, to help you stay in shape through your university years. Head to the common room after a tiring day of work to watch some TV or simply hang out with your friends here. You could even sharpen your pool skills by playing a game at the pool table.

We, at Lumis Student Living Cardiff offer super-fast wifi facilities that reach all the corners of the building. This ensures that your work never suffers and you're always connected with your friends and family back home too! The building is protected by round-the-clock CCTV coverage and onsite security too. If you would like to learn more about the services we offer at Lumis Student Living Cardiff, connect with us at Best Student Halls. We would be delighted to help you.
Property Amenities
Wifi
Bike Storage
Broadband
CCTV
Common Room
Secure Door Entry
Vending Machine
Laundry
En-suite
Wheelchair Accessible
Gym
Pool Table
Kitchen
Freezer
Satellite/Cable TV
On Site Maintenance
Heating
Outdoor area
All Bills Included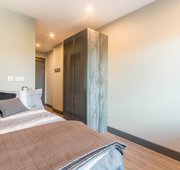 6-bed Cluster Ensuite
Room sizes can vary from 13.37m2 to 15.79m2.
3/4 size double bed with under-bed storage
Private en-suite shower room
Study space with desk and chair
Double wardrobe with shelves
Shared kitchen with induction hobs, electric ovens, microwave and dishwasher
Plenty of kitchen storage, and double fridge/freezer
Dining table and chairs, and flat screen TV in communal area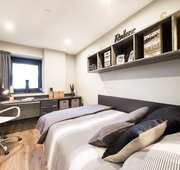 7-bed Cluster Ensuite
Room sizes can vary from 13.37m2 to 15.79m2.
3/4 size double bed with under-bed storage
Private en-suite shower room
Study space with desk and chair
Double wardrobe with shelves
Shared kitchen with induction hobs, electric ovens, microwave and dishwasher
Plenty of kitchen storage, and double fridge/freezer
Dining table and chairs, and flat screen TV in communal area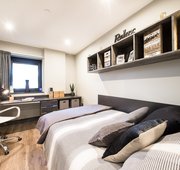 5-bed Cluster Ensuite
Room size can vary from 13.37m2 to 15.79m2.
3/4 size double bed with under-bed storage
Private en-suite shower room
Study space with desk and chair
Double wardrobe with shelves
Shared kitchen with induction hobs, electric ovens, microwave and dishwasher
Plenty of kitchen storage, and double fridge/freezer
Dining table and chairs, and flat screen TV in communal area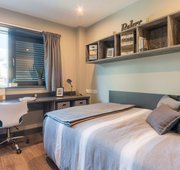 Standard Studio
Room size can vary from 17.34m2 to 19.49m2.
3/4 size double bed with under-bed storage
Private en-suite shower room
Study space with desk and chair
Double wardrobe with shelves
Private kitchen with induction hobs and combi microwave oven
Plenty of kitchen storage, and fridge/freezer
Breakfast bar, stools and flat screen TV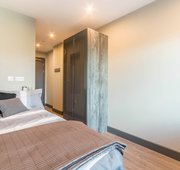 3-bedroom Apartment
Room size can vary from 14.87m2 – 15.97m2.
3/4 size double bed with under-bed storage
Private en-suite shower room
Study space with desk and chair
Double wardrobe with shelves
Shared kitchen with induction hobs, electric ovens, microwave and dishwasher
Plenty of kitchen storage, and double fridge/freezer
Dining table, chairs, beanbag chair and flat screen TV in communal area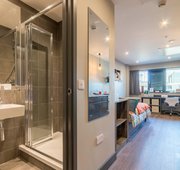 Premium Studio Accessible
Room sizes can vary from 25.37m2 to 25.74m2.
3/4 size double bed with under-bed storage
Private en-suite shower room
Study space with desk and chair
Double wardrobe with shelves
Private kitchen with induction hobs and combi microwave oven
Plenty of kitchen storage, and fridge/freezer
Breakfast bar, stools and flat screen TV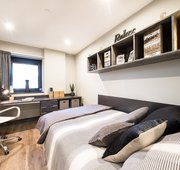 2-bedroom Apartment
Bedroom size can vary from: 13.34m2– 16.13m2.
3/4 size double bed with under-bed storage
Private en-suite shower room
Study space with desk and chair
Double wardrobe with shelves
Shared kitchen with induction hobs, electric ovens, microwave and dishwasher
Plenty of kitchen storage, and double fridge/freezer
Dining table, chairs, beanbag chair and flat screen TV in communal area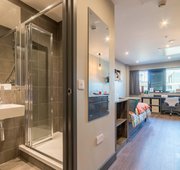 Premium Studio
Room size can vary from 21.17m2 to 23.90m2.
3/4 size double bed with under-bed storage
Private en-suite shower room
Study space with desk and chair
Double wardrobe with shelves
Private kitchen with induction hobs and combi microwave oven
Plenty of kitchen storage, and fridge/freezer
Breakfast bar, stools and flat screen TV