Student Castle Brighton
4 Pelham Terrace, Brighton BN2 4AF
View in a map
TBC
View in a map
About Halls
Student Castle is the hub of studio apartments in Brighton and Hove. Set in a prime location, Student Castle Brighton will provide students with the privacy of apartments on a reasonable budget. The Student Castle student accommodation is one of the best halls available in the area for university goers. The University of Sussex is located only a few minutes away, and students can easily take the 8-minute walk to their university every day. Student Castle will fulfil all your dreams of staying in a studio apartment. The Student Castle student accommodation hall comes with spacious and well-decorated rooms which will surely make you fall in love. The apartments are designed in a way that opens up the central area to create more open space. Big windows of the rooms invite morning sunlight which casts a glow over the apartments.

Studio apartments at Student Castle Brighton are available on single and double occupancy. Every room comes with beds, study desks, a kitchenette, en-suite bathrooms, and storage spaces. The fully equipped kitchenette is perfect for making healthy meals and quick snacks.

Student Castle Brighton has a wide range of common areas for fun and socialisation. The Student Castle student accommodation boasts a lathe terrace with breathtaking sunsets and sunrises. Additionally, large common rooms, bike rentals and storage, laundry, study areas, and courtyard make the place perfect for students' conveniences.

Amenities like WiFi, electricity, water, and heaters are included in the rental payment and are not a headache for students. The security of Student Castle is top-notch, and CCTV surveillance is provided round the clock. Student Castle Brighton is not your simple student accommodation. With entertainment centres nearby and the place itself having many facilities on-site, the Student Castle student accommodation will be your best place for residence and relaxation.
Property Amenities
Wifi
Bike Storage
Onsite Security
Common Room
Laundry
On Site Maintenance
All Bills Included
Content Insurance
Outdoor Courtyard
Free bike hire and storage
24 hour support
Study Zone
Altman Studio
Our studios are all contemporary in design and include the latest technology. They each come with their own en-suite bathroom, private kitchen area and plenty of space for you to study or relax. 19.1m2 average size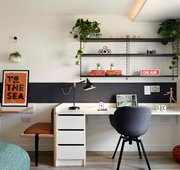 Luckes Studio
Our studios are all contemporary in design and include the latest technology. They each come with their own en-suite bathroom, private kitchen area and plenty of space for you to study or relax. 21.0m2 average size
Merrifield Studio
Our studios are all contemporary in design and include the latest technology. They each come with their own en-suite bathroom, private kitchen area and plenty of space for you to study or relax.
24.3m2 average size
Nash Studio
Our studios are all contemporary in design and include the latest technology. They each come with their own en-suite bathroom, private kitchen area and plenty of space for you to study or relax. 28.9m2 average size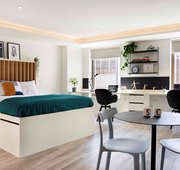 Mortimer Studio
Our studios are all contemporary in design and include the latest technology. They each come with their own en-suite bathroom, private kitchen area and plenty of space for you to study or relax. 31.4m2 average size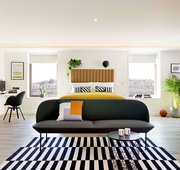 Mortimer Deluxe Studio
Our studios are all contemporary in design and include the latest technology. They each come with their own en-suite bathroom, private kitchen area and plenty of space for you to study or relax.
43.6m2 average size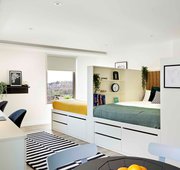 Wade Twin
Twin room with en-suite kitchen and living space. The Wade twin comes with two double beds, perfect for sharing with a friend.
32.7m2 average size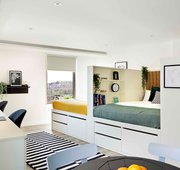 Wade Deluxe Twin
Twin room with en-suite kitchen and living space. The Wade Deluxe twin comes with two double beds, perfect for sharing with a friend.
42.0m2 average size