Selly Oak Court
Selly Oak, Birmingham B15 2TT
View in a map
SOLD OUT
View in a map
About Halls
Selly Oak Court sits in one of the more popular and bustling areas of the metropolis that is Birmingham. The area is known for its healthy nightlife and entertainment options. Students living at Selly Oak Court accommodation find the proximity to the University of Birmingham's Selly Oak and Edgbaston campus particularly convenient. It saves them both time and money they would be otherwise spending on the commute. Since the city centre is also at a walkable distance, Selly Oak Court student accommodation offers easy access to everyday essentials and part-time jobs, making student life much easier.

The actual accommodation at Selly Oak Court is defined by modern, stylish and well-designed rooms. You can book a 2 to 6-bed cluster en-suite, depending on your personal requirements and budget. Apart from these, some studios come packed with facilities like large beds, private showers, doubled wardrobes, shelves for your books, fully-fitted kitchens that include everything from ovens to microwaves and grills! You can choose to stay in a studio on your own or share an en-suite with your friends, the options at Selly Oak Court are many!

The facilities offered by any student accommodation can play a great role in defining how your day looks, that is why Selly Oak Court pays special attention to different facilities. Here you will find dedicated bike storage for your rentals and owned bikes, a car park for other vehicles, high-speed WiFi and broadband connection throughout the property so that you can stay connected and wheelchair accessibility for people on wheelchairs. The on-site security includes CCTVs, a secure door entry and much more so that you can sit back and relax. The on-site laundry can be accessed at any time, allowing you the flexibility to do your washing when you want and an on-site gym where you can go and work on your physical health.
Property Amenities
Wifi
Bike Storage
Car Parking
Broadband
CCTV
Common Room
Secure Door Entry
Laundry
En-suite
Wheelchair Accessible
Gym
Pool Table
Kitchen
Freezer
Satellite/Cable TV
On Site Maintenance
Heating
All Bills Included
Bus Links
Train Links
Airport Links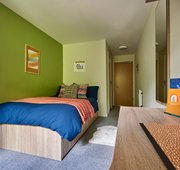 5 Bed Cluster En-suite
Great to share with four other flat mates / friends, there is a communal kitchen with a dining and lounge area.
¾ size double bed with under bed storage
Coat hooks
Double wardrobe
Pin board
Plenty of storage
Private en-suite shower room
Private room access
Shared communal kitchen with ceramic hob, combi oven, and fridge freezer
Shelves
Study space with desk and chair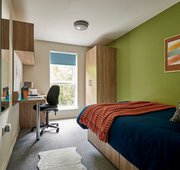 6 Bed Cluster En-suite
Great to share with five other flat mates / friends, there is a communal kitchen with a dining and lounge area.
¾ size double bed with under bed storage
Coat hooks
Double wardrobe
Pin board
Plenty of storage
Private en-suite shower room
Private room access
Shared communal kitchen with ceramic hob, combi oven, and fridge freezer
Shelves
Study space with desk and chair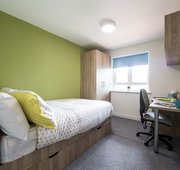 4 Bed Cluster Ensuite
¾ size double bed with under bed storage Private en-suite shower room Study desk and desk chair Double wardrobe Book shelves Plenty of storage space Private room access Access to shared kitchen
3 Bed Cluster Ensuite
¾ size double bed with under bed storage
Private en-suite shower room
Study desk and desk chair
Double wardrobe
Book shelves
Plenty of storage space
Private room access
Access to shared kitchen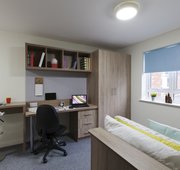 Studio
17m2 Double bed with under bed storage Breakfast bar Coat hooks Double wardrobe Pin board Plenty of storage Private en-suite shower room Private kitchen with ceramic hob, combi oven, and fridge freezer Private room access Shelves Stools Study space with desk and chair Ground floor studio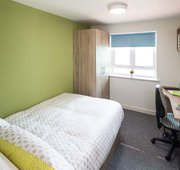 2 Bed Cluster Ensuite
¾ size double bed with under bed storage
Private en-suite shower room
Study desk and desk chair
Double wardrobe
Book shelves
Plenty of storage space
Private room access
Access to shared kitchen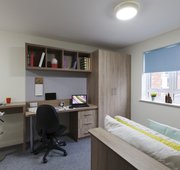 Standard Studio
¾ size double bed with under bed storage
Private en-suite shower room
Study desk and desk chair
Double wardrobe
Book shelves
Plenty of storage space
Private room access
2 ring ceramic hob
Fully fitted kitchen
Combination oven, microwave & grill
Breakfast bar and stool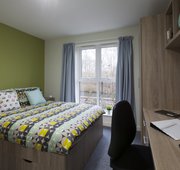 Premium Studio
¾ size double bed with under bed storage
Private en-suite shower room
Study desk and desk chair
Double wardrobe
Book shelves
Plenty of storage space
Private room access
2 ring ceramic hob
Fully fitted kitchen
Combination oven, microwave & grill
Breakfast bar and stool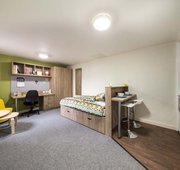 Deluxe Studio
¾ size double bed with under bed storage
Private en-suite shower room
Study desk and desk chair
Double wardrobe
Book shelves
Plenty of storage space
Private room access
2 ring ceramic hob
Fully fitted kitchen
Combination oven, microwave & grill
Breakfast bar and stool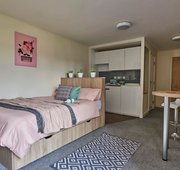 Super Deluxe Studio
Double bed with under bed storage Breakfast bar Coat hooks Double wardrobe Pin board Plenty of storage Private en-suite shower room Private kitchen with ceramic hob, combi oven, and fridge freezer Private room access Shelves Stools Study space with desk and chair