Host Student Apartments
561A Bristol Road,, Selly Oak, Birmingham B29 6AR
View in a map
SOLD OUT
View in a map
About Halls
Host Student Apartments accommodation is a modern and stylish place situated in the heart of Birmingham's student district, Sally Oak. The location for host student apartments halls has been chosen with great care to ensure that the students can get to their universities, places of part-time work and other social spaces with ease, making their time at university a pleasant one. In fact, one of the most popular retail destinations in the United Kingdom, the Bullring, is situated not very far from Host Student Apartments.
Host Student Apartments accommodation is made up of modern and stylish and studio spaces including deluxe ensuite apartments and premium studios. All of these places have been designed keeping the student lifestyle in mind. Each one of these rooms has large and comfy beds, designated study areas complete with desks and chairs, large wardrobes and drawers to store your valuables and access to fully equipped kitchens where the students can prepare fresh and healthy meals from scratch. The private bathrooms in these spaces are also well-designed and luxurious so that you can get ready for your day at your own pace and not have to wait for anyone else to get ready.
The many facilities offered includes high-speed internet in the form of a Wi-Fi connection that extends throughout the property. The security of the space is also taken care of with the help of CCTV coverage and on-site security. An in-house laundry has also been provided to ensure that the students don't have to travel too far in search of freshly clean clothes. Apart from indoor spaces like common rooms and games rooms where the students can gather and spend quality time together the accommodation also has an outdoor courtyard with which the students can sit and relax.
Offers
No Place No Pay
No Visa No Pay
Property Amenities
Wifi
CCTV
Onsite Security
Laundry
Outdoor Courtyard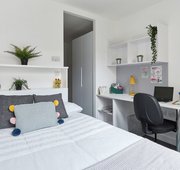 Deluxe En-suite
3/4 double bed Large desk and chair Spacious wardrobe Drawers Bedside table Shared kitchen En-suite Microwave Free wired internet (100Mb) Free Wi-Fi (up to 100Mb shared)
Premium Studio
3/4 double bed Large desk and chair Spacious wardrobe Drawers Bedside table Open plan kitchen En-suite Microwave Free wired internet (100Mb) Internet Free Wi-Fi (up to 100Mb shared)