Bentley House
Bentley House, 10 Moland Street, Birmingham B4 7AU
View in a map
View in a map
About Halls
Bentley House is an excellently placed student accommodation that sits in the heart of Birmingham. We say excellently placed because you will find plenty of educational institutions at a stone's throw away! For example, you can reach the Aston University campus by simply crossing the road and Birmingham City University sits at a convenient walking distance of 16 minutes. Additionally, University College Birmingham can be reached in around 20 minutes if you choose to walk and if you are planning on using the public transport, the time is cut short to a few minutes. Since the place offers excellent public transportation, you can easily reach the University of Birmingham as well! Dedicated bike storage means that you can easily buy or rent a bicycle for travelling to university or work without having to worry about overnight parking.

Bentley House student accommodation is made up of furnished rooms of varying sizes that you can rent according to your budget. There are a total of 534 rooms which come in the form of en-suites and studios, packed with all the amenities that you could want for a comfortable stay. Bentley House accommodation offers free Wi-Fi throughout the place so that your studies can go on uninterrupted; there is also an on-site post and parcel service so that your parcels reach you, no matter when you get home and contents insurance so that you can sit back in peace!

Apart from these, Bentley House also offers amenities like on-site laundry for washing your clothes at your own convenience, on-site maintenance in case there is a breakdown and an on-site gym so that you do not have to travel far in order to build your exercise routine. All of these things come together to make for a comfortable stay at Bentley House for all students.
Offers
£99 Cleaning And Service Fee Applicable*
Property Amenities
Wifi
Bike Storage
CCTV
Common Room
Laundry
En-suite
Gym
On Site Maintenance
All Bills Included
Parcel receipt
Social Events
24 hour support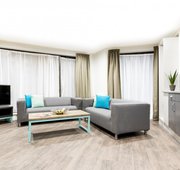 Classic En Suite
Rooms are approximately 13m2. Choose a classic en-suite room in a 3, 4, 5 or 6 bed flat and share a modern kitchen-living area. You've got all the great features of our Standard En-suites but these rooms are available on a whole range of different floors.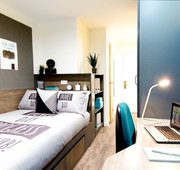 Standard En Suite
Rooms are approximately 13m2.
Live with friends, or make new ones, in a great value ground floor en suite room in a 5 or 6-bed apartment with courtyard views. You'll share a homely kitchen-living space with your flatmates, whilst enjoying the privacy of your own modern room with swanky bathroom to match!
No Contracts Available At Present.
Premium En Suite
Rooms are approximately 15m2.
If you fancy more living space in your contemporary en-suite bedroom, but still want all the same great features as our Classic and Standard rooms, we think you'll love our Premium En-suites. With even more space to play with, you'll have your mates green with envy (so tell them to get booking too)!
No Contracts Available At Present.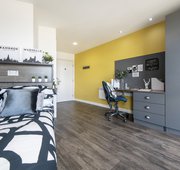 Deluxe En Suite
Rooms are approximately 17m2.
Looking for a little luxury? This super spacious pad will allow you to enjoy more floor space than any other type of en-suite room. You can choose to share a kitchen/living area in 4 or 5 bed flats, so round up your friends or make some new ones. Then again, what does it matter when you have such a fabulous room to retire to.
No Contracts Available At Present.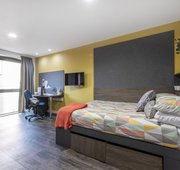 Deluxe Studio
Rooms are approximately 25.5m2.
There are only two studios in Bentley House (so be quick!) and they are located within a 4 bed flat, so not only do you get your very own kitchen, but if you're feeling sociable, you can also join your flatmates in theirs. This is the ideal choice if you prefer your own privacy and like to keep things just the way you like them.
Want to share? Dual occupancy for the Deluxe Studio is available for just an additional £25 per week.
No Contracts Available At Present.