John Bell House
John Bell House, College Square, Belfast BT1 6DJ
View in a map
SOLD OUT
View in a map
About Halls
Welcome to Bell House a modern and vibrant property located in a desirable neighbourhood of the city. It's located only a few minutes away from the local universities, while a short walk can get you to the City centre. Bell House offers a wonderful mix of studio and shared apartments that come complete with modern amenities, spectacular views and ample storage. When hunger strikes, you can whip up a quick meal in the fully-equipped kitchen. To make life easier for you, Bell House Belfast offers in-house housekeeping services that will ensure your space is always neat and tidy.

The Bell House property comes with spaces for socialising and relaxing like common rooms. The Grand Hall, which has been converted into a communal area makes for an excellent hangout spot. Head to the study room to get some serious studying done or to work on presentations. It's a noise-free zone that will offer just the right environment to work in. You can also chill in the outdoor courtyard with your neighbours or invite a few friends for a cosy get-together. Use the super-fast broadband and wifi services from any corner of Bell House Belfast, hindrance-free. Security comes first at Best Student Halls, which is why the property has CCTV cameras and onsite security too. Flexible payment terms and free content insurance will make life simpler for you. We also allow dual occupancy at Bell House with no extra costs in our studio rooms in case you want to live as a couple or share with friends.

Interested in knowing more about the services offered at Bell House Belfast? Get in touch with Best Student Halls! We are happy to be of help!
Offers
*International Guarantors Accepted*
Refer A Friend + Get Rewarded
BSH's Exclusive Offer. Book Today And Get £50 Cashback. T&C's Apply*.
Property Amenities
Wifi
Bike Storage
Broadband
CCTV
Common Room
Secure Door Entry
Laundry
En-suite
Library/Study Area
All Bills Included
Bus Links
Train Links
Content Insurance
Social Calendar
Flexible payment terms
Stay for summer
In-house housekeeping
Parcel receipt
Outdoor Courtyard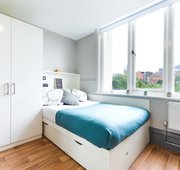 Ensuite Bronze
Flexible length of stay from 44-58 weeks Room size 13.5-14.9m² 3/4 (small double) bed Ensuite bathroom with shower, toilet and basin Desk, chair and wardrobe provided in room Communal kitchen and living space, great for socialising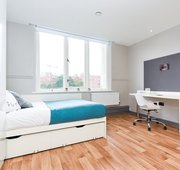 Ensuite Bronze Plus
Flexible length of stay from 44-58 weeks Room size 15-16.9m² 3/4 (small double) bed Desk, chair and wardrobe provided in room Ensuite bathroom with shower, toilet and basin Communal kitchen and living space, great for socialising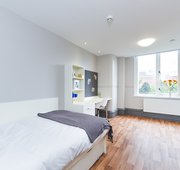 Ensuite Silver
Flexible length of stay from 44-58 weeks Room size 17-19m² 3/4 (small double) bed Ensuite bathroom with shower, toilet and basin Desk, chair and wardrobe provided in room Communal kitchen and living space, great for socialising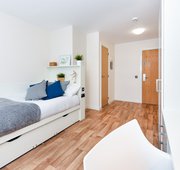 Ensuite Gold
Room size 19.1-22.8m² 3/4 (small double) bed Ensuite bathroom with shower, toilet and basin Desk, chair and wardrobe provided in room Communal kitchen and living space, great for socialising
Ensuite Platinum
Room size 23.7-24.6m² 3/4 (small double) bed Ensuite bathroom with shower, toilet and basin Communal kitchen and living space, great for socialising Desk, chair and wardrobe provided in room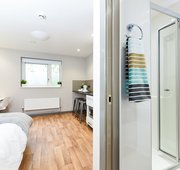 Studio Bronze
Room size 17-19.9m² Double bed Dual occupancy available at no extra cost Ensuite bathroom with shower, toilet and basin Desk, chair and wardrobe provided in room Self-contained kitchen, bathroom and living space
Studio Silver
Room size 20-20.9m² Double bed Dual occupancy available at no extra cost Ensuite bathroom with shower, toilet and basin Self-contained kitchen, bathroom and living space Desk, chair and wardrobe provided in room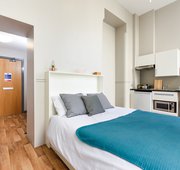 Studio Gold
Room size 23.4-24.9m² Double bed Dual occupancy available at no extra cost Ensuite bathroom with shower, toilet and basin Desk, chair and wardrobe provided in room Self-contained kitchen, bathroom and living space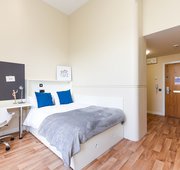 Studio Platinum
Room size 25-27.3m² Double bed Dual occupancy available at no extra cost Ensuite bathroom with shower, toilet and basin Desk, chair and wardrobe provided in room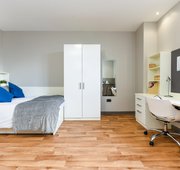 Studio Platinum Plus
Room size 27.9-31.3m² Double bed Dual occupancy available at no extra cost Ensuite bathroom with shower, toilet and basin Desk, chair and wardrobe provided in room