Aster House
2a University Road, Belfast BT7 1NH
View in a map
View in a map
About Halls
Welcome to the vibrant and lively Aster House Belfast, where you'll find the perfect home away from home! The name Aster House is derived from the beautiful and serene Aster perennial flowers that adorn the local Botanic Gardens, which is a reflection of our philosophy of harmonizing with nature.

Our accommodation provides an idyllic retreat for students from the hustle and bustle of university life, with both indoor and outdoor plants. At Aster House, we understand the importance of balancing work and life, and that's why we offer a variety of entertainment options, including game spaces, lounges, and even a karaoke room!

As soon as you step into the magnificent interiors of Aster House Belfast, you'll realize that it's not just a place to sleep; it's a home that offers a plethora of amenities both on-site and nearby. Our modern and peaceful 'green' living space echoes the beauty of the surrounding Botanic Garden, providing a perfect location for students to unwind and exhale after a long day of study.

Our personnel are incredibly polite and helpful, ensuring that your stay at Aster House is as pleasant and comfortable as possible. The bills include all the great amenities you could possibly need, and the round-the-clock assistance ensures that you'll always have someone to turn to for any need or query.

At Aster House, we take your safety and security very seriously, and that's why we have security services and CCTV in place to ensure your stay is safe and secure. The calm environment and colorful study room are perfect for aiding your studies and promoting academic excellence.

In summary, Aster House student accommodation provides the ultimate accommodation experience for university students, allowing you to maintain a healthy balance of study and social life. With our welcoming and friendly atmosphere, you'll feel right at home in no time! Come and experience the Aster House difference, where you'll be greeted with a smile and treated like family.

Belfast, the charming capital city of the UK, extends a warm welcome to students from all around the world! It's a place where you can live and study comfortably without breaking the bank.

One of the best things about Belfast is that it's incredibly safe - you'll feel secure and protected while you're here. Plus, getting around the city is an absolute breeze! You can walk or cycle to most places, and the public transport system is top-notch.

If you're looking for an affordable and flexible way to explore the city, be sure to check out the Belfast Bikes public bicycle rental scheme. With its easy-to-use system, you can rent a bike whenever and wherever you like. It's an excellent way to discover the hidden gems of this beautiful city while keeping fit and healthy. So why not hop on a bike and see where your adventures take you?
Offers
1-Week's Rent as Holding Deposit
No Visa No Pay, No Place No Pay
Refer A Friend And Get Rewarded.
Property Amenities
Wifi
CCTV
Onsite Security
Common Room
Secure Door Entry
On Site Maintenance
All Bills Included
Free bike hire and storage
Games room
On-site Team
Social Events
24 hour support
Support Staff
8 Bedroom Standard En-suite
11.86 - 19.79 m² | Small double, desk chair, wardrobe, headboard shelving, and under-bed storage Shared living, kitchen, and dining area with a fully fitted kitchen, washing machine, tumble dryer, dishwasher, smart TV, sofa, and dining table with chairs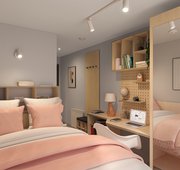 6 Bedroom Standard En-suite
11.89 - 21.96 m² | Small double, desk chair, wardrobe, headboard shelving, and under-bed storage Shared living, kitchen, and dining area with a fully fitted kitchen, washing machine, tumble dryer, dishwasher, smart TV, sofa, and dining table with chairs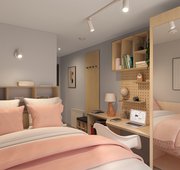 6 Bedroom Premium En-suite
14.24 - 21.96 m² | Small double bed, desk chair, wardrobe, headboard shelving, and under-bed storage Shared living, kitchen, and dining area with a fully fitted kitchen, washing machine, tumble dryer, dishwasher, smart TV, sofa, and dining table with chairs